Falconets coach Peter Dedevbo is upbeat his team can go all the way to the final of the FIFA U-20 Women's World Cup at the expense of North Korea on Wednesday.
On Sunday night, the Nigeria U-20 women's team thrashed New Zealand 4-1 to book a semi-final confrontation against North Korea at the U-20 Women's World Cup in Canada.
"My team have played against the Koreans twice in 2010 and 2012 U-17 World Cups in which Nigeria lost, but this time around it will be a different ball game," promised Dedevbo.
The Falconets reached the final of the 2010 edition of this tournament and lost out in the semi-finals two years ago.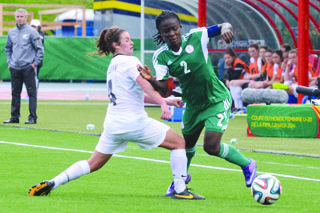 Dedevbo, who has previously failed to guide the Nigeria U-17 female team beyond the quarterfinals of the World Cup, said getting to the last four of Canada 2014 was personal vindication.
"I have been called a failure, a coach who never got beyond quarterfinals and many more. My critics said I cannot exceed quarter finals citing my outing with the Flamingoes (Nigeria U-17 team), it has not been easy, but I thank God," he said.
"I have proved them wrong, that's why at full time I fell down and rolled on the pitch. Today is a memorable day."
On Sunday at Moncton Stadium, the Falconets opened the scores 31 seconds after kick-off through Asisat Oshoala, who headed home a cross from Ugo Njoku. Oshoala netted another goal 12 minutes later to put scores at 2-0.
Uchechi Sunday then came from the bench to get a goal for the Falconets six minutes to full time.
But almost immediately, New Zealand pulled a goal back through Emma Rolston, before Uchechi wrapped up the big win for Nigeria.
Asisat Oshoala was picked as the most valuable player of the match for the second time.
"I must commend my coach for giving me the opportunity to play up front. That gave me the chance to showcase my skills. This match is the beginning of our road to victory," she said.
She now has three goals, Uchechi Sunday has scored two goals, while Courtney Dike, Loveth Ayinla and Chinwendu Ihezuo have each netted once.
The Falconets have scored a total of nine goals in four matches.