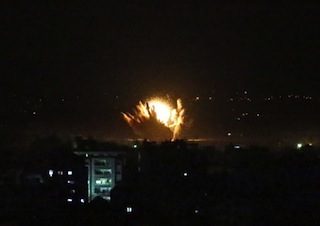 Thousands of Palestinians fled their homes in neighbourhoods of eastern Gaza City on Tuesday, carrying bags of clothes, pillows and mattresses after renewed Israeli air strikes, witnesses said.
An AFP reporter saw hundreds of Palestinians streaming out of Shejaiya, an area devastated by more than a month of fighting between Israel and the Islamist movement which rules Hamas.
Thousands more were leaving the Zeitun and Shaaf areas, alarmed by a series of explosions, and heading towards shelters in UN schools, the witnesses said.
The United Nations said Monday that more than 237,600 Palestinians were already seeking shelter at 81 UN schools across the Gaza Strip.
On Tuesday, Israel ordered its negotiators back from talks in Cairo and warplanes hit targets in Gaza after Palestinian rockets smashed into the country's south as the two sides were observing a 24-hour truce.
Nine days of relative quiet in the skies over Gaza came to an abrupt halt when three rockets struck southern Israel just hours before the truce was to expire at midnight local time.
Israel immediately ordered a military response, with warplanes striking targets.
Two boys aged six and nine were moderately wounded in the southern city of Rafah, the Palestinian emergency services spokesman said.