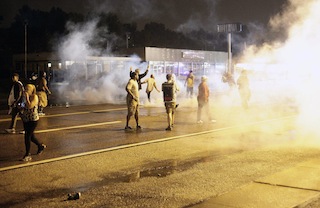 Two people were shot and wounded and 31 arrested Monday in the latest night of unrest in the Missouri town of Ferguson rocked by a racially charged killing, police said.
The wounded were hit by gunfire from demonstrators in the midwestern town, as police did not open fire, said Captain Ron Johnson of the Missouri Highway Patrol early Tuesday.
Four police were injured by thrown objects, and some of the protesters in the crowd of about 200 came from as far away as New York and California, Johnson said.
He said police fired tear gas as a last resort to disperse the crowd in this mainly black town with a mainly white police force.
The condition of the two people wounded by gunfire was not immediately known, Johnson said.