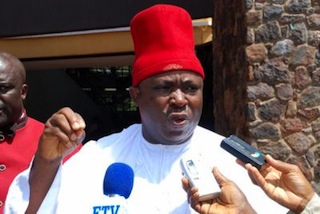 Rep. Afam Ogene (APGA – Ogbaru) said on Tuesday that the leadership of the party in Anambra would resolve its internal crisis.
NAN recalls that a fortnight ago some prominent members of the party threatened to abandon the party for another due to disagreements.
Ogene told NAN in Atani near Onitsha, that there was no form of disagreement among the party members that could not be resolved amicably.
"There is nothing playing up, what we have as I keep insisting even from two years ago is family disagreement.
"The tongue and the teeth live in the same cavity but they often have misunderstanding once in a while. For us as APGA members, it is not a fierce crisis, I keep telling people.
"It is a mass movement of the Igbo people; it is beyond the political party. If it is about political parties, I have different platforms upon which to stand and I am sure that I would be able to achieve my aim there.
"But because it is a mass movement, my people said no, we cannot abandon what is close to a religion for us."
According to Ogene, there have been consultations within the party as well as among various Igbo groups to see to a peaceful resolution of grievances among the party members.
"When a husband and wife have issues they settle them before the day breaks. We have been able to re-invent ourselves at different critical junctions; don't forget that when people thought we won't come together to do the governorship elections, we did.
"There are no big issues; when we sit down and trash one or two issues. We are still together. And you remember that former Gov. Peter Obi did underscore the fact that he remains a member of APGA," he said.