Head coach Peter Dedevbo has promised that his ladies will be out in full force against the Asian ladies as they hope to secure a berth in the final of the ongoing FIFA U-20 Women's World Cup.
Surprisingly, it is Dedevbo's first ever semi-final in his international coaching career after being shown the exit door twice in the last eight while with the country's U-17 Women's World Cups team in Trinidad and Tobago 2010 and Azerbaijan 2012.
After a remarkably thrashing New Zealand  4-1 in the quarter-final, the Delta Queens coach has now set his sight at leading the Falconets to the final.
"The higher you go in football, the harder it becomes, we will leave nothing to chance in the match against Korea," Dedevbo said.
"Am very much aware that the Koreans are fast on counter attack and that's why the girls were not given a day off. We have to perfect our possession and control as well as make sure we get an early goal which will unsettle them.
"I don't want to disclose my strategies, the game will determine how we play, but I want to tell Nigerians that, the team are confident and ready to take on any team," he said.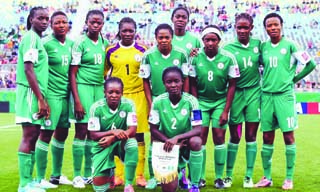 Meanwhile, Flamingoes head coach Bala Nkiyu has warned the Falconets against any form of complacency as the North Koreans are sure to prove a hard nut to crack compared to past opponents in the championship.
"Both North Korea and South Korea play the same pattern, but the North Koreans are more deadly and matured at the age grade category.
"The Super Falcons engaged the side in 2010 in international friendly in Korea losing 1-2 in the encounter.
"Usually they like to rush their opponents to try and get an early lead but if you hold on they appear to quickly lose patience and get frustrated, that's when you can throw the killer punch.
"Thus the Falconets must avoid trailing the side in the first 45 minutes. If they can't score an early goal they must not concede a goal to them so that they can always come back in the second half to do the damage.
"The Falconets must stay awake 100% for the duration of the game as a minute's loss of concentration could be devastating," she said.
"Individually, everybody must have somebody to mark at all times. They should not to give them room to operate while falling back to defend.
"Though the Koreans are a difficult side in any competition, they're beatable once we're able to mark them perfectly well.
"The Falconets have shown lot of improvement in the championship, they only have to remain focus till the end. They've the character and quality to be in the final," said the former Super Falcons assistant coach to supersport.com.

Load more