Kazeem Ugbodaga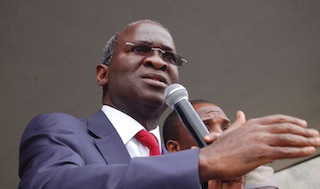 The Lagos State Government says five fresh Ebola Virus suspected cases have been uncovered with the suspected victims already isolated at the Isolation Centre in Lagos, Southwest Nigeria.
Also, another Ebola patient has survived the disease and has been discharged, says Lagos Commissioner for Health, Dr. Jide Idris on Wednesday at a news conference held at the government secretariat in Alausa, Ikeja.
According to Idris, with five suspected new cases uncovered and isolated, it bring to six the total number of Ebola victims at the Isolation Centre for treatment.
"To date, we have recorded eight suspected cases. Five of the suspected cases came in on Tuesday. Twelve cases have been confirmed and five died. We are currently following up 213 contacts and 62 discharged," he disclosed.
The commissioner said progress was being made to curtail the disease, saying that government had already started shifting from primary to secondary contacts.
"Residents of the state should be vigilant, especially with regards to people, who are ill. There is no panic as long as basic precautionary measures (hand-washing, adoption of proper waste management and enhanced personal and environmental hygiene) are adhered to," he stated.
However, the commissioner paid glowing tribute to Dr. Stella Adadevoh who died of Ebola on Tuesday, describing her as a heroine.
"It was Dr. Ameyo-Adadevoh, who took the initiative to intimate Lagos State Ministry of Health concerning the index case of Liberian-America, Mr. Patrick Sawyer and substantially to her credit the moderate containment of the virus.
"She led the team, who attended to the index case. Her doggedness and commitment to duty saw her personally reviewing the case even though the patient had earlier been seen by a doctor. No doubt, she and the other affected health workers are the heroes and heroines of the day," he stated.
The commissioner encouraged the private health sector to further cooperate with the government and promptly report any suspected case, saying that there was the need for basic universal precaution, while barrier nursing should be uppermost, adding that government was prepared to ensure that their businesses enjoyed an ongoing concern status.