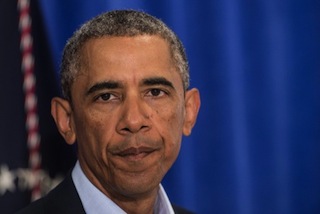 US President Barack Obama demanded Wednesday the world take action against the "cancer" of jihadist extremism in Iraq, as Washington revealed it had failed in an operation to free US hostages in neighboring Syria.
It came a day after the so-called "Islamic State," which has seized much of eastern Syria and northern Iraq, released a video showing a masked militant beheading US reporter James Foley, provoking worldwide revulsion and condemnation.
As US jets continued to strike IS targets in Iraq, despite a threat to kill a second American reporter, Obama said: "When people harm Americans anywhere, we do what's necessary to see that justice is done."
Shortly after he spoke, the State Department asked for 300 more US troops to be sent to Iraq to protect US facilities.
US forces had tried but failed to rescue Foley and other US hostages held in Syria by the IS, officials and reports said.
The Pentagon and the White House did not say if the covert mission earlier this summer was to rescue Foley, who was kidnapped in northern Syria in November 2012 and whose murder has provoked revulsion and condemnation.
However US media, citing senior Obama administration officials, said Foley was among those US Special Operations commandos were trying to rescue
"This operation involved air and ground components and was focused on a particular captor network within ISIL (IS)," Pentagon spokesman Rear Admiral John Kirby said in a statement.
"Unfortunately, the mission was not successful because the hostages were not present at the targeted location."
Obama "authorized action at this time because it was the national security team's assessment that these hostages were in danger with each passing day in ISIL (IS) custody," a White House statement added.
In the execution video, a black-clad man said that Foley, a 40-year-old freelance journalist, was killed to avenge US air strikes against his movement.
The man then paraded a second US reporter, Steven Sotloff, before the camera and said he too would die unless Obama changes course.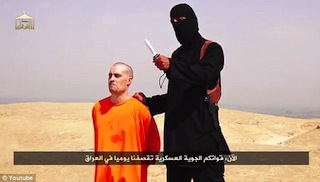 In the nearly five-minute video, Foley is seen kneeling on the ground, dressed in an orange outfit that resembles those worn by prisoners held at the US naval base at Guantanamo Bay.
"Any aggression toward the Islamic State is an aggression toward Muslims from all walks of life who have accepted the Islamic caliphate as their leadership," the masked militant declares.
IS had asked for a multi-million dollar ransom for Foley and killed him after Washington refused to deliver, The New York Times reported.
Obama paid tribute to Foley and said the Islamic State must be defeated.
"Jim Foley's life stands in stark contrast to his killers," he said, branding the militants genocidal murderers who target civilians and subject women and children to "torture and rape and slavery."