Vice President Namadi Sambo has expressed described the recommendations of delegates at the just concluded national conference as a 'living document.
Sambo who assured that the recommendations of the National Conference would be implemented by the Federal Government for the development of Nigeria praised delegates for "a job well done".
"Your accomplishment is no mean feat. You defied all odds placed on your way by those who did not want us to discuss our problems.
"You stood firm and delivered for our country, a living document that will feed into the ever undying spirit of the Nigerian nation that Mr President often speaks about," he said.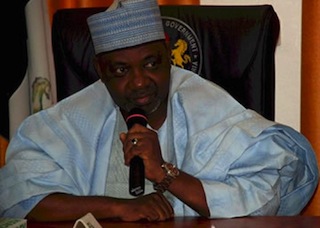 Sambo made the remark on Wednesday night in Abuja at a dinner organized by the Chairman of the conference, Justice Idris Kutigi (rtd), for the delegates to mark the end of the conference.
"I am confident that the recommendations of the conference as appropriately documented, would be adequately utilised to achieve Nigeria's progress," he said.
He described the conference as the "broadest" ever convened in the history of the country.
"The history of national conferences in Nigeria predates our independence, but I can say unequivocally that this is by far the broadest national conference convened in this nation.
"During the conference, all matters within the socio-political and economic spheres of the country were extensively discussed.
"I will like to note that the quality of representation was most outstanding," he added.
In his remark, Chairman of the Conference, Justice Idris Kutigi, congratulated the delegates on the success of the conference.
"The nationalist roles you played in ensuring that this conference came to a memorable conclusion will indelibly remain engraved in the making of a new Nigeria.
"History will forever be kind to you," he said.