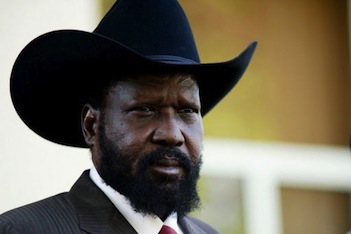 The South Sudan Government on Friday threatened to resume fighting with the rebel group, SPLM/A in opposition, following breakdown of negotiations in Addis Ababa.
South Sudan's Minister of Information Michael Makuei told Journalists in Addis Ababa that the government had declined further participation in the negotiations until the opposition signed the cessation of agreement matrix.
Makuei said the Government had the capacity to stamp out the rebels but was following the rule of engagement and dialogue as a path for lasting peace in the country.
"Government is capable of over running the rebel positions but it is respecting agreements earlier signed by the two parties," he said.
He said the agreement was the only platform for the emergence of thematic groups that had been formed to develop mechanism for power sharing in the expected transitional government.
He said the South Sudan Government would hold the mediators responsible for the failure of negotiations and demanded for a new Intergovernmental Authority on Development team to mediate the negotiations.
"We shall not return to the negotiating table unless the matrix document is signed and fighting is stopped in South Sudan," the minister said.
The spokesperson of the SPLM/A in opposition, Brig.-Gen. Lul Koang, told NAN that the group would not sign the agreement until its demand for 70 per cent power sharing is met by government.
Koang also demanded for full federal system with creation of additional 24 states to speed up growth of the oil-rich nation as well as taking control of 70 per cent of the country's armed forces.
It will be recalled that the two parties in the eight-month-old conflict signed a cessation of hostilities agreement in January, but failed to stop the fighting.
NAN reports that fighting ensued after an alleged attempt to overthrow the Salva Kiir government by a rebel group led by former Vice President, Reik Machar.
No fewer than 500,000 people have been killed and more than 1.5 million displaced in the fighting between government troops and rebel forces in South Sudan.