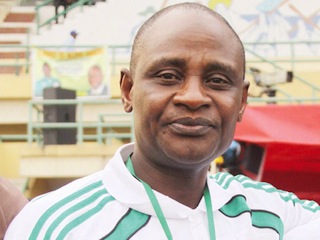 The embattled President of Nigeria Football Federation, Alhaji Aminu Maigari has reportedly been detained by agents of the State Security Service, SSS, in Abuja Tuesday.
P.M.NEWS Sports gathered that Maigari, who was said to have resigned his position by the Sports Ministry, was invited by the SSS to their office at Maitama District in Abuja today and upon arriving at the secret police office, Maigari, chairman of the NFF Technical Committee, Barrister Chris Green and Secretary General, Musa Amadu, were allegedly detained and they were yet regain their freedom as at the time of this report.
Sources told P.M.NEWS Sports that some members of the NFF Congress were in Abuja for today's congress and who are also sympathetic to the plight of the erstwhile president, have been keeping vigil at the SSS office since morning demanding the release of Maigari and others.
"At least 30 chairmen of state's football associations and other stakeholders of the Congress are here at the SSS office in Abuja.
"I want to believe that the authorities decided to arrest Maigari so that he would not be able to preside over today's congress, but to many of us here, we still see him as our president duly recognized by FIFA and we believe that the congress must be presided over by him in conformity with the letter written to Nigeria by the world football governing body on the need to have a Congress to chart a roadmap for Nigerian football," said one of the sources that comes from one of the state's football associations in the southwest region of the country.
The Bauchi-born administrator has had a series of problems after the 2014 FIFA World Cup. He was removed from the office through a court injunction before the order was vacated. He was also impeached by his own board and cam back.

Load more