Eromosele Ebhomele & Samson Uwala
Apart from pure hatred for the female condom, many Nigerian women are either ignorant of its existence or do not see it as pleasurable during sex, P.M.NEWS finding has revealed.
Invented by a Danish Medical Doctor, Lassa Hessel, first manufactured in the U.S. by the Female Health Company and approved for use by the U.S. Food and Drug Administration in 1993, the female condom is not only a device against sexually transmitted diseases, but was supposed to be a major contraceptive without side effects.
However, as huge as the population of women is in Nigeria, some medical experts and counsellors told our correspondents that very few women in the country had tried it.
"If you assess 100 women, don't be surprised that only two would tell you they had used it either once or twice. Again, those who have used it may just have experimented. So it is not like they are consistent in using it," Mrs. Titilayo Adebayo, said a marriage counsellor with one of the new generation churches in Lagos, western Nigeria.
Mrs. Adebayo explained that many of the women were not quite aware of the existence of female condoms and where some are aware, they may not have seen it.
P.M.NEWS learnt that this ignorance is not only common among the less literate, but cuts across.
The low awareness could also have resulted from the fact that unlike the male condom which can be bought anywhere, the female condom is not accessible and can mostly be found in hospitals and other health centres.
Tejumola Omolaja, a 32-year-old mother of two, told P.M.NEWS that she had only seen the female condom once and that was during the ante-natal for her second child.
"That day, the female health worker taught us how to use it to prevent pregnancies and how it could be used against contracting sexually transmitted diseases.
"But many of us were put off because the procedure is cumbersome. Unlike the male condom which you just fix when the man is ready, the woman passes through many 'festivities' trying to insert the female condom into her vagina," she said.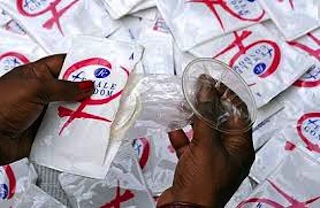 Dupe Okeowo, a computer operator, has only seen a photograph of the female condom on the internet. She has not seen it physically but disclosed that she could try it if she eventually finds one.
A female lawyer, who refused to disclose her name, said she would never use the female condom because it hinders the pleasure that comes with love-making.
The woman, who said she got a free condom during an enlightenment campaign by a non-governmental organisation last year, explained that it was not a palatable experience using it.
"I decided to experiment with it, but believe me, it was not enjoyable at all. That night was terrible. My husband waited endlessly for me to insert it and when I finally did, there was no pleasure derived.
"At a time, I had to take it out so as not to frustrate my husband," she said
She explained that the female condom has two rings at both ends. While one of the rings is inserted into the vagina, the other ring stays outside the vagina during intercourse.
She said it is preferable for men to use condoms since the use of male condom does not stop the man or woman from reaching their points of excitement.
Nkechi Obi, a commercial sex worker in Lagos, confessed that she had never seen a female condom since she began her trade four years ago.
While speaking with our correspondent at the Agege area of the state, she maintained that commercial sex workers prefer the male condom.
"Many of those we work together have not seen or used the female condom before. Though I have heard of it, I have not seen or touched one.
"What we make use of is the male condom, it is cheap and affordable. Gold Circle is between N30 and N50. We all have packs. So when a customer doesn't come with a condom, we give him one," she said.
Findings show that while the male condom goes for between N30 and N200 and come in different brands and between four and 12 per pack, a pack of female condoms could go for between N1,000 and N1,500 depending on where it is being sold.
"This could also be one of the reasons women get discouraged about the female condom," a nurse who simply gave her name as Mrs. Toyin, told P.M.NEWS.
Explaining reasons why she would not use the female condom, a teacher, Josephine Jaiyeola, said the time it takes to get it fixed is a major discouraging factor.
"Moreover, for a woman to be able to successfully insert it, she must be fully lubricated. What then would happen if you find a man that  is not patient enough for you?
"Some men would even take their reasoning beyond the ordinary when they see you wearing one during love-making. For me, it is a no no. I can't use it," she said.
Surprisingly, however, some of the women who responded to P.M.NEWS' inquiry, said they do not like the use of condom even by men during intercourse.
"If my husband talks about using condoms, it simply means there is an issue with trust," Mrs. Justina Ini, a fashion designer, said.
"There are other ways we can prevent pregnancy and this includes family planning," she said.
Veronica Areola, Assistant Director for the Centre for Research on Women and Gender at the University of Illinois, Chicago, noted that apart from price, the female condom is not being used in the U.S. due to social stigma about the product and lack of education on how to use it.
"I don't know how many people know that these female condoms are available," she said in one of her published opinions.
Load more