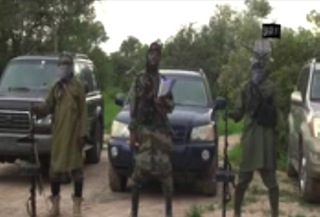 The United States on Thursday said it was concerned by increasing Boko Haram violence and territorial gains in Nigeria, warning that the deteriorating situation threatened the African giant's future.
"We are very troubled by the apparent capture of Bama and the prospects for an attack on and in Maiduguri, which would impose a tremendous toll on the civilian population," US Assistant Secretary of State Linda Thomas-Greenfield said on a visit to Abuja.
Boko Haram, which has been waging a violent insurgency that has claimed thousands of lives since 2009, has in recent weeks overrun and held swathes of territory in Nigeria's far northeast.
On Monday, the militants reportedly took over Bama, 70 kilometres (45 miles) from the Borno state capital, Maiduguri, although the military disputes the claims.
Thomas-Greenfield, who leads Washington's African Affairs team, told delegates at a bilateral meeting on regional security that the upsurge in violence "constitutes a serious threat" to Nigeria.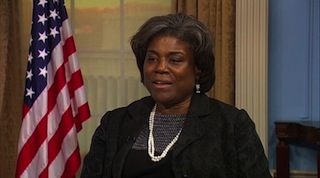 Boko Haram leader Abubakar Shekau's claim that the captured town of Gwoza, also in Borno, was now part of an Islamic caliphate "only adds to the perception that the security situation is steadily worsening".
"All of these developments are deeply disturbing, and increasingly dangerous with each passing day," she added.
Before the capture of Bama, the militants seized Gamboru Ngala, Buni Yadi in Yobe state and Madagali in Adamawa, with Nigerian troops seemingly unable to match their firepower.
Hundreds of soldiers abandoned their posts, some crossing the border into Cameroon, although the military said they had not fled but were conducting "tactical manoeuvres" that crossed the frontier.
Thomas-Greenfield said the stakes were high after experts warned that the government risked losing control of the northeast and the violence could spread across borders.
"The reputation of Nigeria's military is at stake. But more importantly, Nigeria's and its children's future is in jeopardy. Failure is not an option," she added.
The United States was one of a number of countries who sent intelligence and surveillance specialists and equipment to Nigeria to help locate more than 200 missing schoolgirls earlier this year.
Boko Haram kidnapped the girls from their school in April, triggering global outrage.
Thomas-Greenfield said Washington would soon announce the launch of a major border security programme which will include Nigeria and its neighbours Cameroon, Chad and Niger.