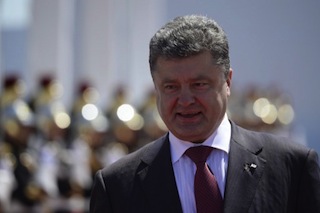 Ukrainian President Petro Poroshenko announced on Monday that 1,200 captives held by pro-Russian rebels had been freed.
"In the past four days, we have managed to free 1,200 of our prisoners," Interfax-Ukraine quoted Poroshenko as saying as he made a visit of solidarity to the flashpoint southeastern port city of Mariupol.
It was not immediately clear if the release was related to a prisoner swap the warring parties agreed to under a truce deal hammered out on Friday aimed at ending five months of bloody conflict.
Poroshenko tweeted on his arrival in Mariupol that the insurgents began shelling checkpoints outside the city after learning that he intended to visit for the first time since the fighting erupted in April.
"They thought they would frighten me. But no-one is afraid of them!" said Poroshenko, dressed in military fatigues for his visit to the only major city in the eastern conflict zone still under government control.
"It is our land. We will not give it up to anyone."
Mariupol, a major port and heavy industry hub on the Sea of Azov, has been in the sights of rebels apparently seeking to carve out a land corridor between Russia and the annexed Crimean peninsula.
Load more