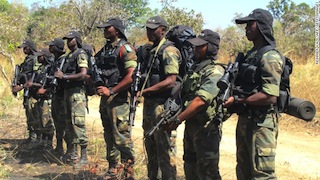 The Camerounian government on Monday said its soldiers had killed "more than 100" Boko Haram fighters during an attempted incursion by the Islamist insurgents into its territory.
The Camerounian army has dealt "a severe setback" to Boko Haram, government spokesman Issa Tchiroma Bakary said in a statement read out on state radio, adding that the clashes took place in the north of the country on Saturday.
The statement, which could not be immediately verified, said Boko Haram militants fired two shells on the town of Fotokol in Cameroun's northern tip, on the border with Nigeria.
"There were no casualties reported on the Camerounian side," the statement said.
"Our defence forces responded vigorously with mortar fire aimed at the positions held by units of the Boko Haram terrorist group. The Camerounian response resulted in over 100 deaths among the aggressors."
The Boko Haram militants were pushed back towards the Nigerian border town of Gamboru Ngala, separated only by a footbridge from Cameroun, which they seized over a week ago.
Meanwhile, panicked residents continued to flee their homes in northeast Nigeria on Monday in fear of Islamist attacks.
The exodus from Mubi, the commercial hub of Adamawa state, began on Sunday after the insurgents seized the town of Michika around 40 kilometres (25 miles) away the day before.
Boko Haram has seized control of a number of towns in Yobe, Borno and Adamawa states in recent weeks, prompting fears the government could soon lose control of the entire region.
"With the fall of Michika into the hands of Boko Haram, Mubi is seen as their next destination," Mubi resident Habu Bala told AFP.
The fear of attack grew on Monday after the families of police officers were ordered to evacuate, said resident Muhammad Maishanu.
The Nigerian military has appeared largely powerless to stop the militants' advance.
Residents in Michika said airforce jets were circling above the town but were unable to strike because the insurgents had taken cover in civilian houses.
In Mubi, where thousands have taken refuge in recent weeks, locals were thronging the main bus depot on Monday.
"The increasing large number of passengers far exceeds available vehicles, which has resulted in commotion as people jostle and struggle to secure seats on available buses and taxis. They just want to get out," said Samaila Ado, who works at the coach station.

Load more