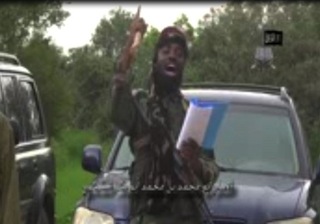 Boko Haram insurgents attacked a market outside the key northeast Nigerian city of Maiduguri, local people who witnessed the incident told AFP on Saturday.
About 50 gunmen on motorbikes stormed the weekly market in Ngom village, some 20 kilometres (12.5 miles) from the Borno state capital, at about 1:00 pm (1200 GMT) on Friday and opened fire, they said.
The attack came hours after a fierce fight with the Nigerian army in the town of Konduga, 35 kilometres from Maiduguri, during which the military said Boko Haram fighters were routed, lost equipment and suffered heavy casualties.
"They (Boko Haram) came on motorcycles and opened fire on the market. They killed many people," said Tanimu Goni, who fled to Maiduguri in the wake of the attack.
Another trader, Nafiu Umarari, added: "They fired indiscriminately and killed a lot of people."
Neither witness gave a precise figure and there was no official word from the military, although one report on the Premium Times website said four civilians were killed.
The men said the insurgents seized vehicles and looted sacks of grain before fleeing but were pursued by a team of soldiers and civilian vigilantes from Maiduguri.
"The soldiers and the civilian (vigilantes) succeeded in killing dozens of the Boko Haram fighters but many of them escaped into the bush," Goni said in an account supported by Umarari.
Nigeria' military, under pressure to stop the militants' rapid capture of towns and villages in the northeast, had hailed their claimed success in Konduga as a victory.
On Twitter, top brass on Saturday encouraged greater national support for its troops in the region by calling for positive messages using the hashtag #VictoryforNigeria.
Fears have mounted in recent days about a possible attack on Maiduguri after the influential Borno Elders' Forum of retired military and civilian officials warned that Boko Haram had effectively surrounded the city.
The military dismissed the claim as "alarmist" but the market attack in Ngom indicated that the rebels were in the nearby area.

Load more