Governor Danbaba Suntai of Taraba State arrived the Nigerian capital of Abuja on Saturday at 10 p.m. after months of medical treatment in the United Kingdom.
Suntai later addressed newsmen at the Gen. Theophilus Danjuma' s guest house in Asokoro, Abuja.
He said: "I just arrived in Nigeria after my treatment abroad at Whalton Hospital in London.
"I thank God l'm getting better, l am happy to be back home and you all are here to receive me. Thank you all for your prayer sand support.''
He was received by Mr Darius Ishaku, Minister of State for Niger Delta Affairs, Rev. Jolly Nyame, a former Taraba governor, Sen. Emmanuel Bwacha, Chairman, Senate Committee on Agriculture, among others.
Ishaku told newsmen that the governor was in good health, adding that he could now take over the responsibility of governing the state.
"Taraba state will heave a sigh of relief following the coming of the governor.
"I am excited, he just addressed us and expressed his joy to be back home; l will like to add that his health is a miracle,'' Ishaku said.
Also, Nyame said that Suntai's mental alertness indicated that he was capable of taking over the affairs of the state.
"It is obvious that the governor can recognise everyone here which shows that he is mentally alert and lucid.
"He just addressed the press, but the last time he didn't, which shows that he can take over as the governor,'' Nyame said.
Suntai's piloted plane crashed on Oct. 25, 2012 in Yola, with some of his aides. The accident was said to have caused him grave brain damage.
He was transferred from a hospital in Yola to the National Hospital, Abuja, on Oct. 26, 2012, and later flown to Germany and U.S for treatment.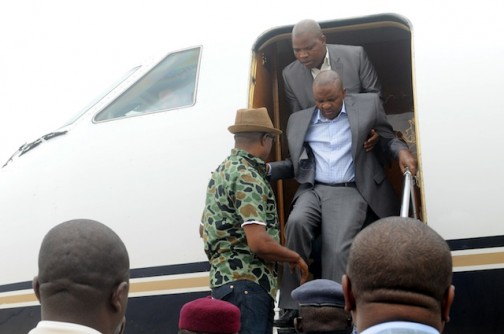 He later returned to the country on Aug. 23, 2013 after 10 months of medical treatment overseas.
After some controversies on the status of his health, the acting governor, Umaru Garba continued in office.
Suntai was later flown to London for further medical treatment.

Load more