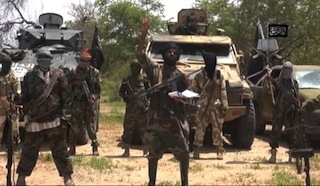 Boko Haram gunmen stormed a crowded market in Nigeria's restive northeastern state of Borno, killing several people and carting away food, witnesses said Saturday.
Dressed in military and police uniforms, dozens of insurgents attacked the town of Mainok, 56 kilometres outside Maiduguri, the state capital late Thursday, firing a rocket-propelled grenade and spraying the market with bullets.
The attackers also looted food which they loaded onto trucks abandoned by fleeing traders, witnesses said.
"They struck around 1:30pm (1230GMT) during peak hours by first firing a rocket-propelled grenade at the market before opening fire on traders", Salman Lawan, a trader who witnessed the carnage told AFP.
"They killed several people in the attack but it is difficult to give a precise figure," said Lawan who fled to Maiduguri following the attack.
Another trader Modu Kachalla, who gave a similar account, said the insurgents were looking for cash and food.
"They robbed traders of cash and loaded food into trucks they seized at the market before fleeing into the bush," he said.
"The market was full…when the Boko Haram gunmen attacked which explained the high casualties," he said.
"The attackers killed many people at the market but it is difficult to give a toll because everybody fled to save their lives," said Ibrahim Kolo, another witness.
Boko Haram, which has seized swathes of territory in Borno and in neighbouring Yobe and Adamawa states, has been running short of food in the areas they have taken, according to residents.
On Wednesday the insurgents ambushed a truck carrying grain to Maiduguri outside the nearby village of Ngamdu and looted it before setting it on fire, they said.
The news of the attack on the market was slow to emerge due to disruption in phone services in the region on Friday. Telecoms services were only restored on Saturday.
Mainok has suffered repeated attacks by Boko Haram, which wants to impose a hardline Islamic state in the mainly Muslim north.
In February scores were killed there and many homes destroyed by the extremists.
Their insurgency has claimed more than 10,000 lives since 2009 and left more than 700,000 homeless.
The Nigerian military has come under increasing pressure as the Islamists have captured more territory in the volatile northeast in recent weeks.

Load more