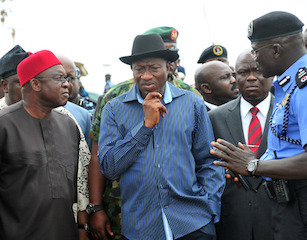 Nigerian President Goodluck Jonathan on Saturday visited the collapsed guesthouse at a mega-church in Lagos, promising to investigate the cause of the tragedy as the death toll hit 86, rescuers said Saturday.
"The president came to the church this morning to see things for himself. He met with Prophet T.B. Joshua and expressed his condolences to the bereaved families," Ibrahim Farinloye of the National Emergency Management Agency told AFP.
He said Jonathan promised to investigate the cause of the September 12 collapse of the guesthouse at Synagogue Church of All Nations (SCOAN) which left scores trapped in the debris.
Farinloye said the death toll now stood at 86 as against the previous figure of 84 after the various emergency teams involved in the operation had reconciled their figures.
"You are aware that several rescue teams at the state and federal levels were involved in the operations. We sat together and reconciled our figures which has now brought the death toll to 86. But those rescued still stands at 131," he said.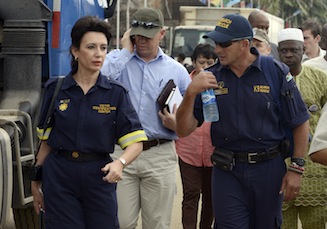 Farinloye could not say if the new death toll included 84 South Africans who had been confirmed dead in the incident by the country's high commissioner to Nigeria Lulu Mnguni.
It is believed that there were 349 South Africans visiting the popular church in the Ikotun district of the city at the time of the collapse.
The church's leader Joshua, who has blamed the incident on sabotage, is one of Nigeria's most well-known Pentecostal preachers and is referred to by followers across the world as "The Prophet" or "The Man of God".
He claims to work miracles, including raising people from the dead and healing the sick, and foreseeing disasters.
The Lagos state government has accused the church of adding extra floors to the existing structure without approval.
It has ordered urgent structural integrity tests on all buildings in the sprawling compound, including the main church, which Joshua says was designed by the Holy Spirit.
In a separate incident, police in Edo state, southern Nigeria, said three people were killed when a church building there that was under renovation collapsed on Friday.
"Three bodies of the workers hired to renovate the building were recovered from the debris," state police spokesman Friday Noble Uwoh told AFP.
He said five people were rescued alive.
He said the building in the state capital Benin city is owned by Christ Chosen Church of God, adding that the cause of the collapse could not be immediately determined.
Cases of building collapse are common in Nigeria because of the use of sub-standard materials and disregard for building codes.

Load more