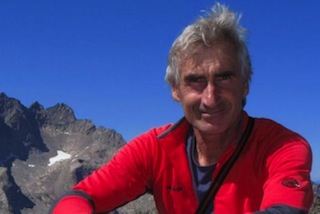 Algerian troops scoured a mountainous eastern region Tuesday for a Frenchman kidnapped by militants linked to the Islamic State group who have threatened to execute him, a security source said.
Elite anti-terrorism soldiers were among those searching for Herve Pierre Gourdel, 55, who was seized on Sunday evening while trekking in the Kabylie area, where Al-Qaeda is active.
Jund al-Khilifa, or "Soldiers of the Caliphate", a militant organisation which has pledged allegiance to the Islamic State (IS) group fighting in Iraq and Syria, has claimed responsibility for the kidnapping.
In a video posted on YouTube on Monday, it threatened to kill Gourdel within 24 hours unless France halted its air strikes against jihadist targets in Iraq.
The video showed the white-haired and bespectacled hostage squatting on the ground flanked by two hooded men clutching Kalashnikov assault rifles.
French Prime Minister Manuel Valls on Tuesday vowed "no negotiation" with the kidnappers and said Paris would press ahead with air strikes against extremists.
The threat against the Frenchman's life followed a call by IS for Muslims to kill Westerners whose nations have joined a campaign to battle the jihadist group.
Last week France conducted its first air raids in Iraq.
It has ruled out joining military operations in Syria, where US-led strikes against IS militants on Tuesday opened a new front in the battle against the militant group.
Violence blamed on Islamists in Algeria has fallen sharply in recent years.
But militants who battled the army during Algeria's civil war in the 1990s later formed Al-Qaeda in the Islamic Maghreb (AQIM) and are still operate in the Kabylie area.