Dr. Moses Iloh, a social critic, founder of Eclectic Network, a socio-political pressure group, former National President of the Nigerian Red Cross, ex-Chairman International Cycling Federation, veteran labour leader, Zikist and General  Overseer, Soul Winning Chapel, Ebute-Metta, Lagos, speaks in this interview about the state of the nation and sundry issues.
How would you appraise the raging Boko Haram menace?
For years now, I have always said that Nigeria is a country desperately moving towards self destruction. In other words, Nigeria deserves to commit suicide. The Boko Haram menace engulfing the nation is one of the orchestrated plans by the forces of darkness towards this scheme of self destruction. It is a spiritual matter, and has a visible physical manifestation which is Boko Haram. Boko Haram has succeeded in belittling Nigeria. It has succeeded to a reasonable extent, in making nonsense of Nigeria.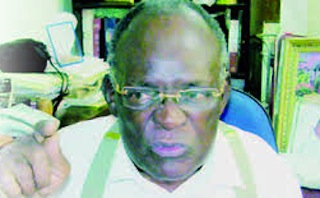 What do you see as a way out?
Like I said earlier, Boko Haram is one visible manifestation of a spiritual problem that bedevils the nation. This means that if Nigeria wants to halt that suicidal tendency, she has to first of all take every practical and visible step to handle visible and practical manifestation of her bid to commit suicide. In other words, she should come out firmly and decisively to stop Boko Haram. The Nigerian government is daily lying to Nigerians that they are tackling Boko Haram. This is exactly not correct. Falsehood + Deceit + Corruption, by any government, is also an act of terrorism by the government to the governed. The federal government should wake up and execute one of the main responsibilities of any government which is the protection of life and property, to justify its existence.
Don't you think that the increasing resistance of this sect portends danger even for other parts of the nation?
At the rate at which it is going, the fear is justified, that they could infiltrate other states. Book Haram seems convinced that the government in Nigeria is militarily impotent, but my personal view on the issue is that it is a federal government façade.    The armed forces is not weak. We have the numerical power. Why don't we deploy that numerical superiority and equip them with modern weapons? I think its just deliberate. It's all a ploy.
What is your comment about the $9.3m arms deal scandal?
It is most shameful. If we had a responsive, responsible and patriotic body of Senate and Reps, by now, the President should have been impeached and his government sacked.
Why?
We are a country, a sovereign nation and a supposed giant of Africa. We are entitled to purchase legitimately, not in a shamefully suspicious secrecy from the black market, more-so, with a plane belonging to one of the most prominent clerics in Nigeria. Why do we have an embassy? This indeed is highly appalling.
How do you adjudge the death sentence passed on the soldiers who mutinied?
That is a show of wickedness. Those boys had no arms. They were ill-equipped. They shouldn't be blamed. We shouldn't kill them. The worst which I think could be done is to dismiss them. To kill them would be the height of injustice.
Do you perceive any ray of hope for the kidnapped Chibok girls?
As far as I'm concerned, the issue of the Chibok girls is a big shame to the federal government. We kept hearing that some of the girls have been raped to death, while others are being used as suicide bombers. These are allegations we cannot just wave aside as sheer rumour, considering the beastly nature of the Boko Haram insurgents. Their case is becoming increasingly terrible with every passing day, more so with the on-going civil war. The federal government, Reps and Senate should resign. They should bow their heads in shame. They have shown that life to them is not sacrosanct and important as the illegal bunkering of the nation's oil resources, among several vices and corrupt activities which seem to be their main pre-occupation.

Load more