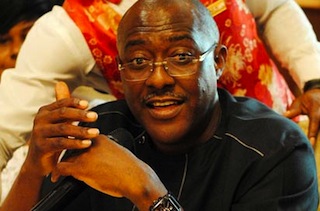 The Peoples Democratic Party on Sunday claimed that the All Progressives Congress, Nigeria's main opposition never wanted the spread of the deadly Ebola Virus Disease to end in the country.
In a statement issued by Olisa Metuh, PDP National Publicity Secretary, he criticised APC for yet another failed attempt to discredit the PDP-led federal government and relegate its efforts in the containment of the Ebola Virus disease.
According to him, the APC was frustrated and unhappy because Nigerians were happy with the PDP-led Federal Government for the speed and energy with which it tackled the scourge.
"We know that the APC prefers that the Ebola scourge continued unabated in Nigeria so as to have what to blame the PDP-led government for.
"Now that it has been contained, the APC is frustrated because the people are happy with President Jonathan and the PDP-led Federal Government for the proactive manner with which the disease was confronted and overcame.
"Apart from concerted collaborations using the Federal Ministry of Health, it is on record that President Jonathan released N200 million each to Lagos and Rivers States to help in fighting the disease," he said.
He noted that while the PDP-led Federal Government was making effort to contain the virus, the APC was busy seeking political capital out of the unfortunate situation.
He called on Nigerians to be wary of the APC propaganda mill, noting that the party had also attempted to gain political capital out of the unfortunate abduction of the Chibok schoolgirls.
The PDP scribe maintained that the success on Ebola was because the government swung into action and did not allow any room for Nigerians to be misled by anybody.

Load more