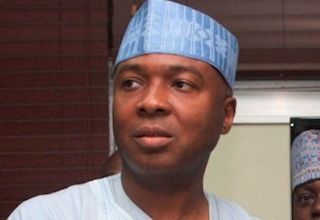 Senator Bukola Saraki has declared that he will not run for presidency in 2015. The former Kwara state governor said he decided to drop any presidential ambition on the platform of the All Progressives Congress (APC) for the greater good of the country rather than personal gains.
In a statement released on Sunday 12 October, he said he was humbled by the call for him to contest from Nigeria and abroad. "After months of wide but careful deliberations and consultations with my family, friends, political associates and supporters, today, I am announcing the suspension of my Presidential bid in the interest of our country and party.
"As it stands, I have been deeply humbled by the spark that my prospective candidacy has ignited among Nigerians across Nigeria and abroad; Young people, youth groups, and stakeholders from all geo-political zones have sought the change that they wish to see".
"These young people by their overwhelming support have not only encouraged my candidacy, they have endorsed the change that they desperately crave.
As complicated as the political outlook of 2015 currently seems, now is the time for well-meaning Nigerians from all works of life to fall-in-line and become rank-and-file soldiers in our struggle to reclaim our nation.
Saraki then stated that he only left the PDP because he owed the country selfless service. "I have always maintained that I did not leave the ruling party for the opposition because of any personal interest; Anyone who
understands Nigerian politics would know that it takes serious courage, rugged doggedness and self-sacrifice to do that. Therefore, whether it is on the issue of the party or all other issues that I have been pushing in my position as a Senator of the Federal Republic, the primal purpose that drives me is the desire to see a better and more purposely governed Nigeria".
He then urged Nigerians to collectively fix the country. "Fixing Nigeria cannot be done by any an individual effort, because fixing Nigeria is an assignment that goes beyond the power of any individual or party; it is beyond individual's ambition and zeal. Fixing a nation like Nigeria with daunting challenges that have accumulated over the years, will take a combined effort. Due to this, I believe that as we move forward to the next elections, now is the time for every patriotic Nigerian, particularly those in the political terrain to base their ambitions and interest in the context of the country's overall interest."
Saraki admonished all APC leaders especially those contesting for presidency to put the country and party ahead of personal gains. "In any healthy democracy, several people will always compete. Even at that, by virtue of the notion of completion, only one can emerge at the end of the day. What this means is that several others may be left disappointed.
"To my party-men and women, to all our candidates competing for the highest office in the land, we must remember that as we move on to take the lead in this fight for the future of our great country, our party cannot afford too much internal rancour going into next year's election. Therefore, some of us need to make personal sacrifice and be part of the solution rather than parts of the problem of the party – and in turn, the country.
"This explains why some of us feel that we must make necessary sacrifices and contribute immensely to building a strong and united party that provides the only real alternative to the floundering Government that has become too constipated on power and lost touch with the realities that ordinary Nigerians grapple with everyday.
"Moving forward, we need to change the way the country is run; we need change in our security and the values we place on human life; we need to change the current disgraceful situation in security and corruption. And I believe only the APC can bring about this change and give our country the leadership that it deserves.
"But we must not stop here. To bring about this change, we must knock on doors, and travel far and wide and spread the ideology of a new Nigeria. We must let Nigerians know that as we seek their mandate as a party and as politicians, they must hold us accountable for the promises that we make during election time. We must let them know that gone are the days of politics-as-usual, empty-promises-as-usual and stomach infrastructure instead of tangible and progressive change.
"Because of this, we must chart a new course. As a party, we must establish a contract with Nigeria that sends a message that change is coming, and change is ever-so-close… But we, as the custodians of our own future, have to grab our change by taking our collective destiny into our own hands at the ballot box.
I continue to stand committed to progressive and successful Nigeria. I continue to remain committed to my supporters, and thankful for their unwavering encouragement over the last few months. I thank my family, loyalists, followers and groups across the country such as Save Kwara Forum, Members of New Nigeria Generation, ABS Vanguard, The Nigeria Positive Change Group, All Progressive Youth Forum, Project Nigeria first, Nigerians in Diaspora Group and others too numerous to mention that have urged me to join the presidential race because of their belief in my ability to fix this country, I say do not be disappointed as a result of this sacrificial decision i have taken in the interest of our country.
"I thank the other Presidential aspirants and leaders on the platform of the APC who have sat down with me to discuss ways of moving this nation forward. All our candidates stand head and shoulders over the leadership that we have today – and I know that they too are dedicated to fixing Nigeria," he said.
He then charged all Nigerians in the words of Nnamdi Azikiwe. "We must do for ourselves what others hesitate to do for us" noting that, "because of this, I speak directly to every Nigerian when I say: change is a joint effort.
Change will not happen by shying away from the ballot box. Change will only occur when we, as Nigerians, decide – as one – that we want change, and nothing will deter us from having it.
"We must keep hope alive and be assured that who ever will receive my support and endorsement will be someone who believes in our aspiration, interest and yearning for a better future for our teaming youth. I hereby reinstate my commitment to the interest of the youths being protected and secured so that at the end of the day, everyone will speak with one voice that we will all be proud of," Saraki's statement read.

Load more