Abiodun Onafuye/Abeokuta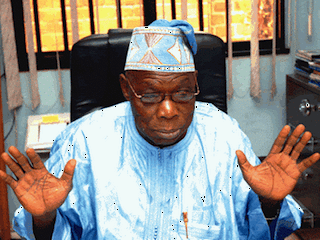 As the preparations for the 2015 general elections gathers momentum, former president of Nigeria and ex-Chairman, Board of Trustees, Peoples Democratic Party, PDP, Chief Olusegun Obasanjo has declared that it is over between him and the party.
Obasanjo during the weekend, declared that the glaring act of corruption, inaction about the kidnapped Chibok girls, inequality and other factors militating against the development of the country would make him to distance himself from the affairs of the national body of the party.
Ebora Owu, as he fondly called affirmed that he would remain a member of the ruling party, but only as an active ward member, remarking that his position bothers on principle, morality, honour and commitment to Nigeria as a nation.
In a release titled "Statement on Begging" copy which was made available to journalists in Abeokuta, Obasanjo said it was expedient of him to clear the air on "the avalanche of news and cacophony of appeals and pleadings from some quarters of PDP leadership.
"There are misunderstandings and misrepresentations which some of those appeals and pleas manifested; hence this explanation from me. Talking of inviting me back to PDP is wrong and it is a great misrepresentation as I have never left PDP and I will never leave PDP.
"I have said it before and I will say it again, I rose to become the President of Nigeria on the platform of PDP and for that reason alone, I will remain a card-carrying and ward-active member of PDP for as long as I have to be a political party member.
"I had occasions to say to the President, the Senate President and the Party Chairman separately that I have no quarrel with any individual or group in the party. There are, for me, issues of principle, morality, honour, integrity, commitment and character which are paramount," Obasanjo said.
He said that as a vital member of anti-drug war in sub-Sahara Africa, having an alleged member of the party in the wanted list of United States of America was one out of the issues he is having with the leadership of the PDP.
"For instance, as a former President of Nigeria, the Chairman of West Africa Commission on Drug and a member of Global Commission on Drug, I cannot accept that the zonal leader of my political party and, worse still in my zone, will be an indicted drug baron wanted in America. How do I explain that to friends outside Nigeria? This is only one of the many issues that I have pointed and still pointing out",the former President posited.
He further maintained that with national and international standard to maintain and reputation to keep and sustain "has for these reasons, I opted to remain active only at the ward level of the party till the leadership does the needful.
"But under no condition will my commitment to Nigeria be diminished. And, for me, it is commitment to Nigeria first and any other commitment can only follow in second or third place. Where any other commitment is in tandem with what I see and understand as commitment to Nigeria, such other commitment will share a pride of place with Nigeria".
The former president asserted that his interest and commitment to Nigeria goes beyond partisan politics, stressing that, "today, Nigeria needs all hands on deck to deal with our pressing problems of security including the issue of Chibok girls, widening inequality, infrastructure, impunity, corruption, poverty and youth education, skill-acquisition, empowerment and employment. These are issues of concern to most Nigerians.
"We all need to join hands to move Nigeria forward. I don't need to be begged for that. Rather, I beg and appeal to those who are begging me to realise that we must put Nigeria's interest above politics – party or personal – otherwise, we will all be judged at the bar of history if not the bar of current affairs. In addition, we must preserve, sustain and deepen democracy and democratic practices," the Balogun of Owu Kingdom stated.

Load more