Nigeria's financial outlay for 2014 and outlook for 2015 move near crisis point today as oil prices continue to slide southwards.
In the year's budget, Nigeria set its benchmark price at $77.5, but as today, the nation's light Brent oil was selling for $83.37 a barrel,its lowest level in four years. West Texas Intermediate contract dropped to $80.37, a point last seen more than two years ago.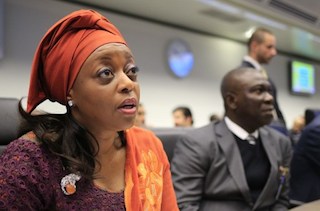 The sliding prices holds implications for Nigeria's large spending appetite: it means that a little window is now left to scoop surplus for the Excess Crude Account, used as a buffer at times of oil price shocks or declining income. And if the slide continues, it has serious implications next year, an election year.
In later deals, Brent North Sea crude for delivery in November stood at $84.06 a barrel, down 98 cents compared with Tuesday's close.
US benchmark West Texas Intermediate (WTI) for November was down $1.16 at $80.68.
"For as long as OPEC makes no move to tackle this threat of a massive oversupply by reducing production, prices are likely to continue to fall," said Commerzbank analyst Carsten Fritsch.
Currently, members of the Organization of the Petroleum Exporting Countries, such as kingpin Saudi Arabia, are in fact slashing the prices they charge customers for their crude in order to gain market share.
The International Energy Agency on Tuesday said it expects demand to have risen by just 700,000 barrels per day to 92.4 million barrels per day this year, 200,000 fewer than its previous growth forecast.
Market-watchers have blamed the slump in demand on weak growth in China, the world's biggest energy consumer, and the eurozone, which some analysts have warned is flirting with recession.
Adding to the pain is an oversupply of the black gold caused by strong US production of shale gas and a return of Libyan oil on to the market after facilities that were closed due to civil unrest resumed operations.
"At some point, dwindling oil prices should be a positive for businesses but global headwinds, which include an Ebola outbreak and signs of slowing growth in China and Europe, have the upper hand for now," said Desmond Chua, market analyst at CMC Markets in Singapore.
DBS Bank of Singapore pointed to concerns over weak growth in Europe's core economies France, Germany and Italy.
"We're not talking about Portugal and Greece anymore. It's the big guys that are shrinking," it said, adding that "the eurozone is on the cusp of its third recession in five years".

Load more