Cyriacus Izuekwe
The Nigerian Prisons Service has blamed the judiciary system for the continuos prison congestion due to slow pace of dispensing justice in Nigeria.
This is coming after inmates protested at the Kirikiri medium prison in Lagos, western Nigeria over the deplorable condition at the prisons.
Speaking on the condition of prisons, the Prisons Service, Public Relation Officer, Mr Ope Fatinilin admitted that the prisons in Nigeria are congested and it has been posing a serious challenge to prison workers.
He revealed that at the Kirikiri Prisons where inmates went on rampage, there are about 2,534 inmates awaiting trial and out of that number, only 98 have been convicted, noting that it was difficult to subject those awaiting trials to be part of reforms for convicts.
Fatinilin said this in an interview on Channels Television, noting that, the prison officials should not be blamed for lapses at the prison yards because they have alerted the authority especially the judiciary on the congestion.
He said the prison officials make monthly updates to the Attorney General both in the states and federation on the challenges and the situation has not been addressed over the years.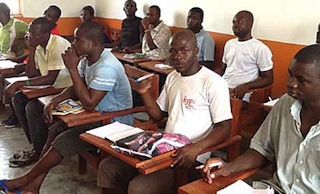 "Every Month, the service write to the Attorney General to up date them the development on the number of inmates and congestion situation but it has remained like that"
He revealed that the officials worked under pressure to ensure that the prisons are not congested, adding that, sometimes they had to transport the inmates to various courts with their money on daily basis.
On the rampage at Kirikiri, he said a panel has been set and the public should allow them to complete their work to know why the inmates went on rampage.
Meanwhile a member of Presidential Reform Committee, Pastor Kayode William has described Nigeria Prisons as a training ground where criminals are trained.
He noted that the prison is supposed to be a reformatory centre but the aim has been defeated and it turned to training centre for criminals.
Williams explained that his involvement in the Prison Reform Committee has made him to know that prison officials are corrupt. He said the officials are so corrupt to the extent that they lobby for positions and polarized the prison conditions in Nigeria.
He noted that there was need for everybody to join hands to remedy the situation by reforming the prisons in Nigeria, adding that, the endemic corruption of prison officials has caused the prison officials to be divided and the inmates to be categorized as super, middle and lower inmates.
He said due to corruption, the prison officials collect bribes from super inmates and allow them to use handsets and generators inside the prisons.
He noted that because of the corruption by the officials, it has become difficult for any inmate to get any form of reform, rather when they come out, they become hardened criminals.

Load more