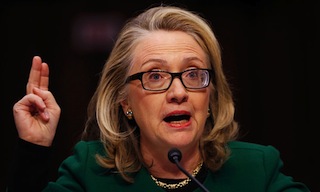 Hillary Clinton urged Americans not to vote for Republicans who dwell on the past, warning at a Democratic campaign rally Tuesday that conservatives seek to keep women's rights "under assault" nationwide.
Applauded by hundreds of supporters in suburban Denver, the former secretary of state lent her political celebrity to Colorado's embattled Senate incumbent Mark Udall, who trails in the polls and has made securing constituent's rights to abortion and contraception the central theme of his campaign.
"Don't vote for people who proudly tell you they will never compromise, don't vote for people whose image of the future sounds awfully like the past," Clinton said in a 25-minute address.
The presumptive frontrunner for the 2016 White House race made no mention of her own political ambitions, instead devoting her words exclusively to supporting Colorado Democrats on the ballot in the November 4 midterm election.
The entire House of Representatives and just over one third of the Senate is up for grabs. Republicans are expected to hold their House majority and have a better-than-even shot at winning back the Senate, a scenario that heaps pressure on Democrats in a handful of battleground states, such as Colorado.
"This election is important to everyone but especially important to the women of Colorado," Clinton said before launching into an attack on Udall's challenger, congressman Cory Gardner, who has strongly supported anti-abortion positions in the past.
"That right is under assault today across our country, and it is less secure than it has been at any time during the past 40 years," she stressed.
"If women's rights are denied or rolled back anywhere, it is a threat to everyone's rights."
President Barack Obama, whose approval rating is near historic lows, has kept his distance from Democratic candidates as the campaigns enter the home stretch.
But Hillary Clinton remains popular and fills the political gap in battleground states and those seen as less favorable to Democrats.
She has popped up recently in Pennsylvania, California and Kentucky, either at fundraisers, meetings or on the campaign stump alongside Democrats.
Clinton is also expected to appear with Senate incumbents in North Carolina and New Hampshire, two states where Republicans have presented stiff challenges to Democratic incumbents.

Load more