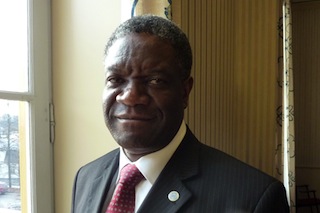 Doctor Denis Mukwege won the European Parliament's prestigious Sakharov human rights prize on Tuesday for his work in helping thousands of gang rape victims in the Democratic Republic of Congo.
Parliament president Martin Schulz announced the award for Mukwege, who has previously been tipped several times for the Nobel Peace Prize, for his work in treating the appalling injuries inflicted on the victims.
Parties in Parliament "decided unanimously to award Dr Denis Mukwege the Sakharov Prize for his fight… for women," Schulz said.
Schulz named the pro-Western Ukraine democracy and rights group EuroMaidan, which led the popular revolt against deposed president Viktor Yanukovych, as runner-up and invited its leading lights to the awards ceremony in November.
The third candidate was prominent Azerbaijani rights activist Leyla Yunus, who is currently being detained on treason charges.
Parliament has decided to send a delegation to meet and support Yunus, 58, who is accused along with her husband of spying for arch-enemy Armenia.
Rival forces fighting for control of the vast mineral riches in eastern DR Congo have used mass rape for decades to terrorise the local population into submission.
Mukwege, 59, trained as a gynaecologist, going on to found the General Referral Hospital of Panzi near Bukavu in South Kivu province which has seen some of the worst violence.
Mukwege survived an assassination attempt two years ago after speaking out about the continued use of rape in the conflict and accused the world of failing to act.
Last year, however, he defied threats and returned home to a warm welcome from thousands of people to say "no to sexual violence, no to war, and no to the Balkanisation of the DRC".
EuroMaidan was an ad hoc group of protesters who gathered last year on Kiev's vast Independence Square, known as the Maidan, to demand that Ukraine be put on the path to European integration.
A powerful youth-driven movement, it is credited with helping tear the ex-Soviet country out of Russia's orbit.
Many believe that it it has also transformed Ukraine's often-overlooked civil society into an energetic and influential force that can never be ignored again.
Pakistan's Malala Yousafzai was the 2013 winner of the Sakharov award and she went on to pick up this year's Nobel Peace prize.
The Sakharov Prize, named after the famous Russian scientist and dissident Andrei Sakharov, recognises significant contributions to the promotion of human rights and democracy around the world.
Other past recipients of the 50,000 euro ($68,000) prize include South African anti-apartheid hero Nelson Mandela and former UN secretary general Kofi Annan.

Load more