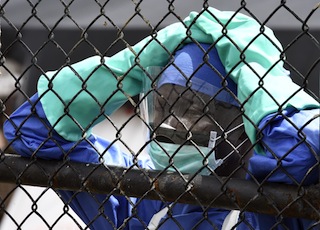 The families of every Guinean health worker who has died in the Ebola outbreak will be compensated for their loss with $10,000 (7,800 euros), the government said Wednesday.
A total of 42 families are currently eligible for the payout, said Sakoba Keita, the minister in charge of the government's Ebola response in Guinea, one of three countries most affected by the outbreak.
The figure includes the eight members of an Ebola education team who were killed last month when they were attacked by angry residents in the southern town of Womey. The team included health workers and members of the media.
President Alpha Conde, with the support of the international community, "has decided to grant $10,000 to every family of health workers who have fallen victim to the Ebola virus," Keita told AFP.
"We're not just talking about doctors or nurses," he said, adding that the offer also extended to support staff working in the health sector such as drivers and porters.
Keita declined to give an overall figure for how much the compensation scheme could end up costing.
"The decisions (to compensate) was taken a month ago, but its implementation was delayed because payment procedures had to be put in place for the funds allocated to Guinea by the World Bank," he said.
Nearly 4,900 people have been killed by Ebola so far, mainly in Guinea, Sierra Leone and Liberia, according to the latest figures from the World Health Organization. Of those, 244 were health workers.
In Guinea alone, there have been 904 deaths, including 41 healthcare workers, the WHO said Wednesday.

Load more