Jethro Ibileke/Benin
An estimated sum of N796.4 billion is spent annually on fuel to power electric generators in Nigeria.
Godfrey Ogbemudia, Programme Director, Community Research and Development Centre, who disclosed this on Wednesday, said this was due to inadequacy in power supply.
Nigerians spend this huge amount in order to generate their own electricity due in adequate power supply.
Speaking at the official launch of the Nigeria Renewable Energy for All Project in Benin, Ogbemudia explained that the figure represented Federal Government's budget of N796.7 billion for the capital expenditure for the 2009 fiscal year for 36 states of the federation.
He lamented that in spite of the various government policies to revive the energy sector, many Nigerians still get as low as four hours of electricity supply per day, hence the need for Nigerians to embrace solar as a viable source of power.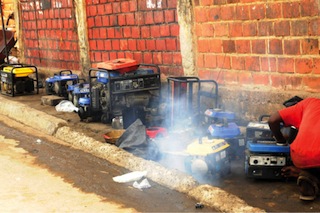 Ogbemudia said that CREDC had been playing a key role in the deployment of renewable energy to rural communities since 2006, part of which was the installation of stand-alone solar systems for no fewer than 550 households in Edo, explaining that the solar project, also known as Nigeria-REAP, was aimed at improving access to sustainable and interrupted electricity supply using renewable energy in collaboration with Schneider Electric.
According to him, Nigeria-REAP was also targeted at individual homes and corporate bodies who require regular and improved electricity power, compared to what they current rate of supple.
He therefore urged Nigerian electricity consumers to take advantage of solar power as the most economically viable alternative to generate their own electricity.
"A 2009 study on electricity distribution among the six geo-political zones in Nigeria shows that some Nigerians enjoy only four to six hours of power supply. Also Nigerians spend about N796.4 billion on fuelling their electric generators to provide themselves with electric power.
Also speaking, the acting Director of the National Centre for Energy and Environment, University of Benin, Professor Martins Ogbonmwan, said that the centre, through the Energy Commission of Nigeria, has developed and tested a wide range of renewable energy technologies for use in the South-South geo-political zone and the entire country.

Load more