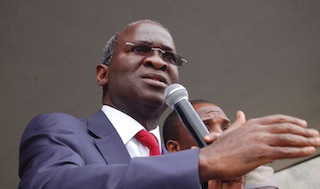 Governor Babatunde Fashola on Wednesday urged Nigerians to value their culture, noting that it served as their identity.
Fashola spoke at the Olokun Festival held at the Suntan Beach in Badagry, Lagos State.
The Governor, who was represented by the Commissioner for Tourism and Inter-Governmental Affairs, Mr Dosu Holloway, said that culture should not be mixed with religion.
"Nigerians must cherish and appreciate their culture, respect its value and it should not be undermined. Our culture is our identity but it a shame that many of us don't know the norms of our culture and we feel ashamed to practise it because of what people would say.
"Also, culture and religion should not be mixed together because they differ in so many ways. Practising culture should not be referred to as religion because there are certain things we practise in our culture and nothing can change that.
"Anyone who forgets his culture is lost and he or she must retrace his or her steps," he said.
Fashola promised that the government would support the festival and give it the necessary support.
"The Lagos State Government would partner with the organisers of the Olokun Festival in order to promote the festival and make it bigger.
"This would also serve as a way to promote tourism in the country and attract tourists from around the world," he said.
Earlier, the Chief promoter of the Olokun Festival, Chief Gani Adams, frowned at the misconception people had about culture, tradition and religion.
"It is regrettable that culture and tradition may go into extinction if something urgent is not done by relevant stakeholders, including the government, to revive the state of our culture.
"Africans tend to be too religious, forgetting that the western world celebrates festivals like Halloween and Isle festival in Australia amongst others, without any religious dichotomy.
He advised parents to teach their children the norms and values of their culture.
NAN reports that the Oba of Kweme Kingdom, Oba Olalekan James and the Oba of Ibereko, Oba Isreal Okoya were among several dignitaries were at the festival.

Load more