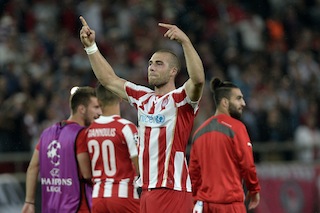 Swiss midfielder Pajtim Kasami scored in the first half to lead Olympiakos to a 1-0 Group A Champions League victory over Juventus on Wednesday.
Olympiakos held off fierce pressure by Juventus in the second half to clinch their fifth straight Champions League home win.
Victory sees them joint top of Group A along with last season's finalists Atletico Madrid — whom Olympiakos beat in the opening game — on six points.
Juventus are three points adrift level on points with Malmo.
"It was a fantastic night and I thank the players for their excellent performance. We are truly a team and we are close to celebrating our qualification," Olympiakos Spanish coach Michel said.
Kasami's goal came in the 36th minute after constant pressure from the home team which saw them deservedly record their second victory in the group.
"I feel great for the win and we worked hard for the three points. This gives us confidence for the remaining matches in the group," Kasami said.
Argentine midfielder Alejandro Dominguez set up the goal for a charging Kasami whose left-footed shot beat Juventus goalkeeper Gianluigi Buffon.
Dominguez sparked Olympiakos in the first half with his speed and accurate passes and nearly scored in the seventh minute with a free kick that was tipped away at the last moment by Buffon and 20 minutes later with a shot that just missed the target.
Juventus had the best opportunity to score in the first half at the 12th minute when after a corner by Andrea Pirlo, striker Carlos Tevez tapped the ball towards the Olympiakos goalkeepr from up close only for defender Omar Elabdellaoui clear the ball from the goal line.
Seven minutes later Tevez headed the ball into the Olympiakos net after a corner by Pirlo and confusion from the home team's defence, but the Argentine player was ruled offside.
In the second half Juventus applied more pressure and had three golden opportunities to score in the 65th, 75th and 80th minutes but Olympiakos goalkeeper Roberto kept them out.
The Spanish goalie stopped one-on-one attempts first by countryman Alvaro Morata and then by Tevez.
Then in the 80th minute a shot by Morata was again saved by Roberto with the ball smacking the right post and going out of play.
Kasimi had an opportunity to add to his first half tally when in the 60th minute his left footed shot from up close just missed the right post after another fantastic pass from Dominguez.

Load more