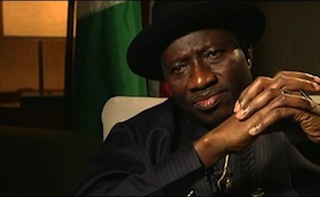 A deadly bombing in northern Nigeria and new details about kidnappings at the weekend blamed on Boko Haram cast further doubt Thursday on the government's claim that the Islamists have agreed to a truce.
As reports emerged that extremists seized dozens more women and girls from the remote northeast — leaving a few dollars behind as a so-called 'bride price' — fresh violence rocked the town of Azare in Bauchi state.
A police spokesman for the state, Mohammed Haruna, said a bomb blast at a bus station in Azare killed five people, with their bodies "burnt beyond recognition," and injured 12 others.
No-one claimed responsibility, but Bauchi has been attacked repeatedly throughout Boko Haram's brutal five-year uprising, which has left more than 10,000 people dead.
Azare resident Musa Babale said the explosion on Wednesday "shook buildings" and sent locals rushing for shelter.
"The whole place was a mess," he told AFP after visiting the site.
Several witnesses said they believed the bomb had been planted in a parked car, but police did not give details on the nature of the device.
Bus station bombings have become something of a hallmark for the insurgent group after twin attacks at a terminal on the outskirts of the capital Abuja earlier this year killed nearly 100 people.
The station in Azare, a town roughly 200 kilometres (125 miles) from the state capital Bauchi city, is a widely used transit point for travellers coming from Nigeria's embattled northeast, which has been under a state of emergency since May last year.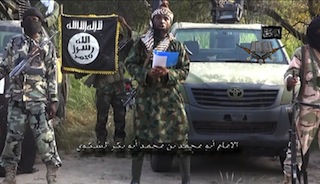 Reports of fresh kidnappings by the Islamists first emerged Saturday near the town of Chibok, where more than 200 schoolgirls were seized in April in an attack that sparked outrage worldwide.
Details of unrest in the remote region with a poor telephone network often take days to emerge.
Residents of the town of Wagga told AFP Thursday that 40 females were kidnapped by suspected Islamist gunmen who went door-to-door, specifically looking for young women and girls.
"They left 1,500 naira ($9, seven euros) and some kola nuts in each home where they seized a woman, apparently as a bride price," said Lazarus Baushe, an elder of the Wagga community.
Enoch Mark, a priest from Chibok who previously worked in Wagga and has close ties there, told AFP an estimated 40 people were taken, in an account supported by several others.
Witnesses in the nearby town of Gwarta separately reported a kidnapping at the weekend involving another 20 female victims, but details were not immediately clear.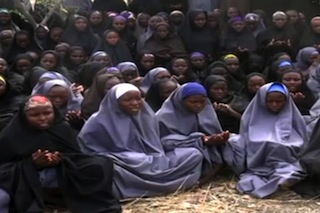 Confirmation that the Bauchi bombing or the latest abductions were tied to Boko Haram would further undermine the government's claim to have negotiated a ceasefire with the extremist group.
The surprise truce was announced Friday by Nigeria's top military officer, Air Marshall Alex Badeh.
A senior aide to President Goodluck Jonathan said Boko Haram had agreed to release the 219 schoolgirls held hostage since they were abducted on April 14 in Chibok.
But evidence is mounting that both pacts were hollow.
Violence raged throughout the weekend and the credibility of the so-called Boko Haram negotiator has been widely questioned.
There has been no comment so far from Boko Haram's purported leader Abubakar Shekau and hopes voiced by the presidency that the girls would be released by Tuesday came to nothing.
Nigerian negotiators were reportedly set to resume talks with Boko Haram envoys in neighbouring Chad next week, but further questions will likely be asked about the identities of the purported rebel negotiators.
Boko Haram, which wants to create an Islamic state in mainly Muslim northern Nigeria, is a fractured group with different commanders controlling rival cells in various regions.
Analysts doubt that the individuals in talks with Nigeria have the influence to enforce a blanket ceasefire.

Load more