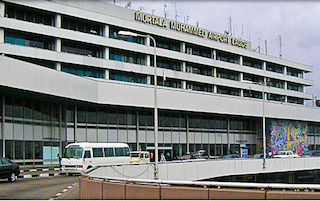 A fire incident that occurred at the Murtala Muhammed International Airport (MMIA) Lagos on Thursday has been traced to an electrical fault.
NAN reports that the fire started at about 11:45 a.m. on one of the floors of the terminal where the Federal Airports Authority of Nigeria (FAAN) has its offices.
The smoke from the scene caused panic in the departure hall and passengers and workers ran out of the hall for safety.
NAN correspondent at the airport reports that a FAAN fire truck with registration number P6-03 and a pick-up van with Lagos registration number FKJ-407-AS were seen at the terminal battling to put out the fire.
The situation was eventually brought under control after about an hour.
Mr Yakubu Dati, General Manager, Corporate Communication of FAAN, said in a statement that it was a "minor smoke incident".
"There was a minor smoke incident at the departures hall of the international terminal of the Murtala Muhammed International Airport, Lagos at about 11:45am today.
"The smoke was quickly traced to the electric panel room on the second floor of the terminal by a combined team of FAAN's electrical engineers and fire officers.
"Preliminary investigation reveals that the incident was caused by a short circuit at the panel room which was quickly arrested by the engineers on duty.
"The Authority wishes to assure the traveling public and other airport users that there was no immediate danger to anyone as a result of the incident neither did it affect flight operations at the terminal.
"The Authority has directed the Directorate of Engineering and Maintenance to commence immediate investigation into the immediate and remote causes of the said short-circuiting of the cables".

Load more