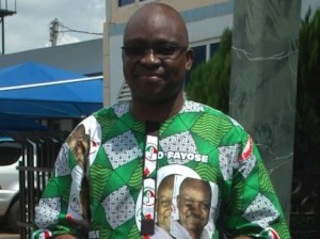 The drama and tension in Ekiti state had barely doused when newly sworn-in governor, Ayodele Fayose seems to have taken what looks like a political vendetta to another level, when Fayose ordered the closure of the petrol station belonging to the speaker of the state House of Assembly.
The Speaker, Adewale Omirin is a member of the All Progressives Congress, which controls the Assembly.
Omirin and the members of the house are now on a month's recess which began last week. Six APC members meanwhile have joined Fayose's Peoples Democratic Party.
The Fayose government shut down Omirin's petrol station in the state capital, along with three others, on the grounds that the location flouted environmental laws. The closure was done Tuesday by the state government. Its agents ordered the owners to submit their construction approval documents to the state Ministry of Environment.
But Omirin interpreted it as political intimidation and coercion, based on what a renegade member of the house, had told him about Fayose's planned action, because he refused to join the Peoples Democratic Party.
He said the action will not force him to betray the people that voted him into office, adding that, he would not buckle under undue political pressure to abandon his party, the All Progressives Congress (APC) for the Peoples Democratic Party for selfish and pecuniary motives.
The Speaker, in a statement by his special adviser on media, Wole Olujobi, explained that he has fulfilled all necessary environmental laws in the location of the filling station and got necessary approval, wondering why the governor was starting early by victimizing those who do not share his political beliefs.
Fayose, however denied the allegation of intimidation and vendetta through his chief press secretary, Idowu Adelusi.
"The essence of closing down petrol stations is to ensure sanity and safety in the state capital.
"When petrol stations are cited near public institutions or residential areas, everybody knows the danger it can cause if there is fire outbreak which has happened in some towns where lives were lost and property destroyed. Even in Lagos State, you cannot just cite petrol station anyhow," the statement said.
"Omirin should have nothing to fear, because the Governor has nothing against him. He should behave like good politician and refrain from conniving with his party to do something unholy.
"His party lost the election and another Governor sworn in, so we expect him to cooperate with the government than creating a stumbling blocks. If Omirin has no skeleton in his cupboard, he should have nothing to fear".
"I had earlier told the governor that in the interest of Ekiti people, the House of Assembly would work with him to deliver dividends of democracy for the good people of Ekiti State," the statement read.

Load more