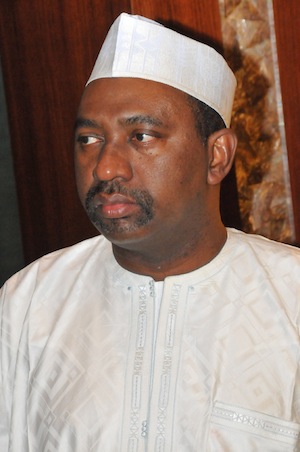 The Minister of State for Finance, Mr Bashir Yuguda,on Wednesday announced that Federal, States and Local Governments shared N603.5 billion revenue that accrued to the nation in September.
Yuguda made this known in Abuja when he briefed newsmen on the outcome of the Federation Accounts Allocation Committee (FAAC) meeting.
He said that the shared amount comprised statutory revenue of N463.7 billion, N35.5 billion Subsidy Reinvestment and Empowerment Programme (SURE-P) funds and N6.3 billion refunded by Nigerian National Petroleum Corporation (NNPC).
Other components of the money, according to him, were Value Added Tax (VAT) figure of N65.1billion, another N30 billion payment from NNPC and N2.7 billion Excess Crude money released to augment shortfall in revenue generated during the period.
Giving the breakdown of the distribution of the revenue among the three tiers of government, Yuguda said that the Federal Government received N217.7 billion representing 52.68 per cent, states, N110.4 billion, representing 26.72 per cent.
The local governments, he said, received N85.1billion, amounting to 20.60 per cent of the amount distributed.
He also disclosed that N43.7 billion, representing 13 per cent derivation revenue was shared among the oil producing states.
On VAT, he said that the gross revenue collected for the month increased by N3.5 billion, rising from N61.5 billion recorded in the preceding month to N65.1billion.
The minister said that the nation generated N374.7 billion as mineral revenue during the period as against N441.9 billion generated in August, adding that the performance indicated a marked decrease of N67.1 billion between the two months.
"The non-mineral revenue for the month of September is N127.3 billion, which when compared to the N159.7 billion generated in August shows a decrease of N32.3 billion.
"FIRS received N3 billion and the Nigerian Customs got N3.6 billion as their cost of revenue collection for the month of September," he said.
In his remarks, Accountant General of the Federation, Mr Jonas Otunla, said that though the FAAC meeting held late in the month, civil servants would receive their salaries in time.
In his comment, the Chairman, Finance Commissioners Forum, Mr Timothy Odah, expressed concern over the continued dwindling of the federation's revenue.
He, however, assured the public that the economy was still robust.
According to Odah, Nigeria is not broke; what we need is to balance.
"We need to stop depending so much on oil due to the volatile nature of oil prices at the moment.
"This is a period of reality. So we will have to lessen our propensity to consume and increase our propensity to save," he said.

Load more