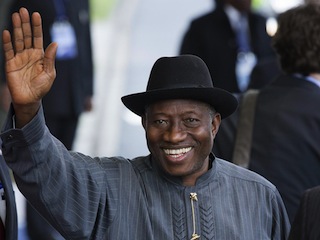 A source close to Nigerian President Goodluck Jonathan said on Thursday the leader of Africa's most populous country has decided to run for re-election in February.
Jonathan met with top officials from the ruling Peoples Democratic Party (PDP) and thanked them for their unanimous endorsement as the party's presidential candidate, the source said.
"The president told them he has accepted the offer and assured them that he would pick the nomination form before the deadline expired next week," said the source.
Jonathan's formal re-election announcement will be made at a public event between November 7 and November 15, according to the presidential aide.
The news was widely expected, especially after PDP state governors gave Jonathan their backing in September.
Jonathan is a Christian from the southern oil-producing Niger Delta region, and had faced calls to stand down in favour of a northern Muslim.
The PDP has an unwritten rule that calls for rotational power aimed at appeasing voters across the religiously divided country.
But Jonathan, 56, outmanoeuvred his rivals, publicly winning the backing of the northern PDP stalwarts thought to have opposed his nomination.
His job performance has been widely criticised, especially over his handling of the brutal Boko Haram uprising.
Analysts also say he has not done nearly enough to curb galloping corruption, including in Nigeria's oil sector, which is the largest in Africa.
Jonathan will face an emboldened opposition under the banner of a new party, the All Progressives Congress, a coalition which groups all of Nigeria's leading opposition groups.
But experts say the president's strongest asset on election day could be his status as the incumbent in a country where the ruling party has a track record of using vast public resources for political aims.

Load more