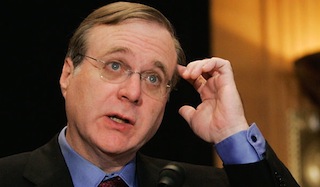 Microsoft co-founder and philanthropist Paul Allen said Thursday he was boosting his donations to combat the Ebola outbreak in West Africa to $100 million.
Allen, who has made earlier donations to the health effort, said his latest pledge would include funding the development and manufacture of two medevac containment units to allow the US State Department to evacuate medical professionals from hard-hit West Africa.
Allen will also donate to the World Health Organization "to increase its capacity to coordinate the logistics required to transport international aid workers," according to a statement.
"The chilling reality of Ebola should motivate us to safeguard society and take action to stop this pandemic. Ebola is not somebody else's problem. It is ours," said Allen, who helped found the software company with Bill Gates and sat on its board of directors until 2000.
"The entire global community needs to step up now with resources that match the speed and scale of this growing outbreak."
Allen said individuals, corporate donors and others should do their part to contain the threat from the disease.
"If you are an individual who wants to be a part of the solution, please donate what you can," he said, citing a contribution website, tackleebola.com.
"And, if you are a major donor, corporation or foundation that is in the unique position like me to give generously, let's partner. We know from history that with timely and coordinated action, we can start to contain this disease."
Allen, who also is an owner of several sports franchises, is the latest member of the tech community to pledge funding to fight the deadly disease.
He has previously donated at least $15 million, according to US media.
Gates, through his Bill and Melinda Gates Foundation, has offered $50 million to fight Ebola, while Facebook founder Mark Zuckerberg and his wife have offered $25 million.

Load more