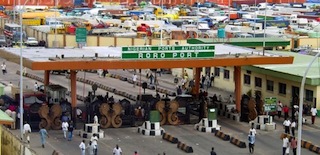 Seventeen ships carrying food items like rice, crude palm oil, bulk wheat, bulk sugar, frozen fish, bulk soya bean and bulk salt are expected at the Lagos ports.
The Nigerian Ports Authority (NPA) said this in its daily publication – the Shipping Position – made available to NAN on Friday in Lagos.
It said that the ships were expected to arrive from October 24 to November 15.
The publication said that 18 other ships would arrive with containers, while 11 others would sail in with petrol, aviation fuel, diesel and kerosene.
The NPA said that eight ships were expected with general cargo including steel products while three others would sail in with vehicles.
It said that 12 ships laden with petroleum products had arrived and waiting to berth at the various terminals in the ports.
NAN reports that the contents on the ships are: petrol, kerosine and bulk gas.
The NPA said six other ships were also waiting to discharge rice, wheat and sugar.

Load more