Eromosele Ebhomele
Speaker of the Lagos state House of Assembly, western Nigeria, Adeyemi Ikuforiji, on Friday disclosed that he got married 29 years ago in an Anglican church despite being a Muslim.
Ikuforiji, who is vying for the governorship seat in the state and has obtained the form for the position on the platform of the All Progressives Congress (APC) has served as Speaker of the state for close to 10 years.
While banishing any talks of religious differences, Ikuforiji made the disclosure during a 'thank you' visit to the Diocesan Bishop of Lagos Diocese and Dean Emeritus, Church of Nigeria, Anglican Communion, Dr. Ephraim Adebola Ademowo, for the support shown by the clergyman all through the period he was tried for financial misappropriation by the court.
A Federal High Court sitting in Lagos had weeks ago acquitted Ikuforiji, but the Economic and Financial Crimes Commission, the country's anti-graft body, has appealed the judgement.
The Speaker, accompanied by his wife, Pastor Mayowa, disclosed that while his travails lasted, the Bishop told him that he will survive the trial. "He always assured me to be calm and to pray. He said God would take control and indeed God took control as he rightly said."
A practising Muslim, Ikuforiji said by the reason of marriage in the church, he and his wife remained children of the Anglican Communion.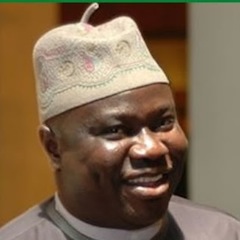 "So we see you as a father and we are happy to be with you. I thank you for all that you have been doing, for your support and assistance and also for your support and assistance to government of Lagos state.
"I am sure with men of God like you and a few others who stand solidly behind the government of Lagos state we can continue to be hopeful that God in his infinite mercy will take us to a higher height," the Speaker said.
Ikuforiji added that: "I deemed it fit to come and say a big thank you to our father here for the support he gave me over the years. Since the issue of the EFCC investigations and the court came up, he has always supported me with prayers, good words, he is always counselling me.
"He also showed very clearly that he trusted me, he believes I was not the type that detractors were trying to paint before the world, and he was always reassuring me that he knows that God would vindicate me at the end.
"And I think now that the court has given its ruling, it is right and proper to come and say thank you."
Welcoming the Speaker to his residence at the Bishop's Court, Marina, Ademowo congratulated Ikuforiji over the outcome of his case with the EFCC.
He described the Speaker as one who is close to him and has only come on a courtesy visit. He also prayed for Ikuforiji and his ambition.

Load more