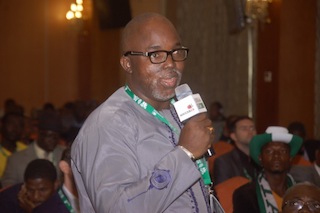 The Executive Committee of Nigeria Football Federation led by Mr. Amaju Pinnick has filed a Stay of Execution at the Federal High Court, Jos Judicial Division over the court's ruling of Thursday, setting aside the elections of 30 September, 2014, which brought the body to office.
NFF's lawyers went to work immediately the ruling was made on Thursday and were able to file for the Stay of Execution on Friday. The court has now set Wednesday, 29 October, 2014 for hearing of the Stay of Execution.
On Thursday, there was serious apprehension across the nation following reports that Nigeria could be in for severe sanctions from world football governing body, FIFA which had issued a stern warning earlier that they would not take kindly to any interference with the NFF's electoral process.
A hitch–free election eventually took place in Warri on 30th September, 2014, following three months of debilitating crises. FIFA, CAF, NFF sponsors, National Assembly and other highly–placed institutions and individuals have recognised the Pinnick–led board and extended their congratulations.
FIFA has also made it clear that any interference from any third parties in the NFF's administrative process will lead to an automatic ban that would not be revisited until its 65th Congress scheduled for Zurich, Switzerland on 29 May, 2015.

Load more