Cyriacus Izuekwe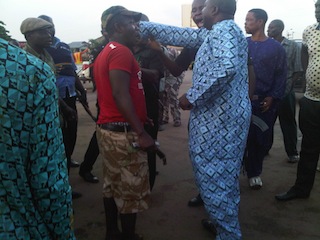 A team of police have foiled a kidnap attempt by four men suspected to be fake soldiers at Pen-Cinema in Agege, Lagos State, Western Nigeria.
The incident which happened at about 6:15 p.m. on Friday on the busy Agege round about led to a lot accusations and counter-accusations.
Four men wearing Nigerian army uniforms riding in a Mitshibushi car with registration number FST 597 CM forcefully tried to get a civilian into their car when one of them pointed a jack-knife at the man while trying to get him to enter the car.
The man who resisted vehemently told them that he does not know them and asked them to take him to a nearby police station but they refused.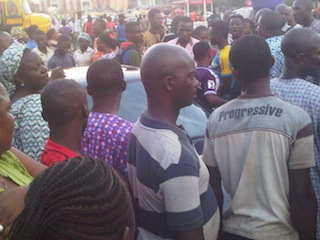 The victim raised alarm which attracted on-lookers and passersby who wanted to know where they were taking the man. They forbade the man from entering the car.
While the men were insisting that the man would enter their car, a police patrol team came to the scene and immediately three of them to took to their heels and abandoned their car on the road side.
The police pursued the runaway suspects who followed the rail line to escape.
But one of them was however arrested and forced to enter police vehicle. He was taken to a police station for further questioning.
As at the time of filing this report, the police was making arrangements to take the abandoned car to the station.
The incident drew a lot of crowd to the scene, most of whom continued to discuss the matter even after police left the scene.

Load more