Okafor Ofiebor/Port Harcourt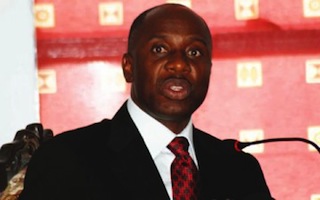 Despite poor funding to states by the Federal Government, Rivers State Governor and Chairman of the Nigeria Governors' forum Rt. Hon. Chibuike Rotimi Amaechi has said, he is determined to complete most of the projects started by his administration.
Governor Amaechi expressed confidence that the reserve fund in the state coffers amounting to N19 billion that was approved by the State Assembly would be used judiciously especially to complete ongoing projects before the end of his tenure.
Amaechi stated this during an inspection tour of the Adokiye Amiesimaka Stadium ahead of the APC Mega rally in Port Harcourt on Saturday.
"It is so alarming that we cannot pay salaries and even complete our projects. But, we will shame those people who think we cannot complete our projects. We promised to work on Oyigbo roads, complete Elioparanwo road, and also work on Rumuagholu road and several others.
"We will also furnish our primary schools, carry out renovation of our secondary schools. But, we are starved of funds by the federal government, so, how do we complete our projects? That is why I said, we will work until May 29, 2015 before leaving office. While saving the one billion naira monthly, I knew that there could be a time when the economy of the country or state will be challenging, so, I started saving the money in our reserve fund. But, the problem of money is not only in Rivers state.
"The Lagos state governor has complained bitterly, including other APC Governors. The approval of the N19 billion by the Rivers State House of Assembly from the reserve fund will help us to complete our projects," Amaechi explained.
Worried by the high level of stealing in the Jonathan's administration, Governor Amaechi said the Federal Government has derailed from its vision of creating wealth for the Nigerian people to sabotage the economy of the nation and deliberately impose unnecessary suffering on innocent Nigerians.
"Stealing is increasing by the day, but President Jonathan said there is no corruption in the country. Corruption in Nigeria is uncontrollable. People are stealing our money every day and the police is helpless because they are part of the system.
"The Minister of Finance, Ngozi Okonjo-Iweala said Nigeria is not broke and if she is saying that there is money in the country, let her pay their debts and our money. She said, the shortfall in revenue does not mean that Nigeria is broke".
According to Governor Amaechi, Commissioners of Finance converged in Enugu, almost everybody left without money, how then can we define being broke.
Iweala is an expert economics, let her tell Nigerians how our money is spent and where our money is, because the matter is getting serious," Amaechi said.

Load more