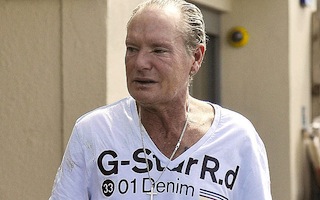 Paul Gascoigne has been placed on an emergency three-day detox programme after a drinking binge which led to the troubled former England star being rushed to hospital, reports said Saturday.
The Sun newspaper said the 47-year-old was taken to hospital by police early Friday.
Tottenham Hotspur, one of his former clubs, said they were offering support.
"We are aware of the situation with Paul and continue to offer our support," said a spokesman for the English Premier League side.
"The best thing for Paul now is to be left to deal with his issues and for everyone to respect his need for privacy."
Gascoigne's former Spurs team-mate Gary Mabbutt said: "Paul hasn't been well for the past couple of weeks, he wants to get better and he's asked for help. He is being looked after very well – he has got a lot of support around him."
The Sun reported that police were called to his home in Poole on the southern English coast on Thursday afternoon and he was taken to hospital early Friday morning.
"Paul arrived at hospital at about 3:00am surrounded by police and doctors. He was not in a good state and they were really worried about him. He had been medically assessed during the afternoon before and was deemed to be OK," the tabloid quoted a source as saying.
"Then something obviously happened. He was put on a three-day detox."
The local police force did not comment.
Regarded as one of the most talented footballers England has ever produced, Gascoigne, popularly known as 'Gazza', starred for Newcastle United, Spurs, Lazio, Rangers and Everton during his playing days.
He produced iconic moments with England, crying after being booked against West Germany in the semi-finals of the 1990 World Cup, which would have ruled him out of the final, and scoring a memorable goal against Scotland at the 1996 European Championships.
But he has struggled with drug and alcohol problems since retiring and was sectioned under the Mental Health Act in February 2008.

Load more