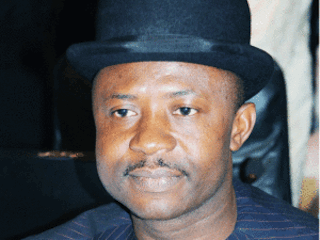 Sports Minister and Chairman National Sports Commission, Dr Tammy Danagogo Saturday saved the Super Falcons from being stopped by CAF from playing the final match of the African Women's Championship which took place in Windhoek, Namibia following the Jos court ruling which set aside the 30 September, 2014 election that brought in the Amaju Pinnick-led Board of the Nigeria Football Federation, NFF.
Consequently the minister has called on all football stakeholders, the judiciary and law enforcement agencies to understand that football matters should not be taken to the ordinary courts but the Court of Arbitration in Sports (CAS) to avoid threats or outright ban of the country by FIFA.
Speaking from Windhoek, Namibia where he had gone to deliver President Goodluck Jonathan's goodwill message and also cheer the Super Falcons in the final against Cameroon in the African Women Championship, Dr. Danagogo said he had to negotiate with CAF to allow the Falcons play the final as they were almost stopped from playing.
"We just succeeded in negotiating with CAF not to stop the Falcons from playing the final match. The decision to ban Nigeria has now been shifted to Monday," he said, stressing that, "all football stakeholders, the judiciary and our law enforcement agencies should understand that each time they take football matters to the ordinary court instead of CAS, Nigeria stands the risk of being banned from all football activities."
He added that "they should understand the reality of this if we want to continue to be part of playing football under FIFA. FIFA has shifted the decision to ban Nigeria to Monday and if nothing is done to resolve this court issues, we risk being banned".

Load more