Okafor Ofiebor/Port Harcourt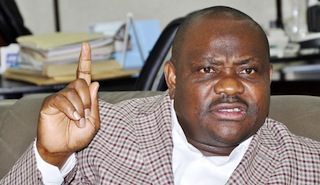 The immediate past Minister of State for Education, Nyesom Wike, has vowed not accept any attempt to impose any candidate or abide by any zoning or rotation of elective positions by the Peoples Democratic party in the state.
According to Wike "I will not accept any attempt to impose any governorship candidate on the party. Let all the governorship aspirants go to the primaries to test their popularity. These are critical times, so it is in the interest of our party to put the best candidate forward for the 2015 governorship election".
He then questioned why the next governor of the state should not be Ikwerre. "Why are they clamouring for zoning? If the other aspirants truly believe that they are popular, why are they shying away from participating in an open contest? Who among them can match Governor Chibuike Rotimi Amaechi, at the polls in 2015? Who among the aspirants in the Peoples' Democratic Party, PDP, can defeat me at the primaries?"
Wike spoke in Port Harcourt, at a World Press Conference to unveil his campaign office.
He denied that he installed Felix Obuah through the court as the state chairman of the PDP, so that Obuah, in turn, would reciprocate by supporting his governorship ambition and jettison the principle of rotation and zoning in the party's constitution.
"Yes, I supported Obuah because I don't like injustice. I felt Amaechi unjustly denied him of his right to emerge as the state chairmen of the party. Obuah was unfairly treated by Amaechi. There is nothing wrong in fighting for your right. If you are unjustly treated, I will stand with you to fight. I cannot stand injustice".
He dismissed the threat by some chieftains of the party from the riverine area that there will be protest votes against the PDP if he is presented as the candidate of the PDP. He challenged the other aspirants under the aegis of the PDP to be ready to meet him at the primary on 29 November, saying no amount of threat will dissuade him from running for the governorship ticket.
He claimed: "My involvement in the race is because of circumstances that were unforeseen before now.
"As for those who are talking of protest votes, I make bold to say that the Ogonis will vote for me; the Kalabaris will vote for me. I have done my home work very well. Even though I was a minster working in Abuja, there was no weekend that I was not in Rivers state. I am not an Abuja based politician. Governor Amaechi and the All Progressives Congress, APC, know that they cannot match me at the electoral field".
Wike, who described the state as a "monument of abandoned projects", promised to transform the state into a viable economic hub if elected governor. He assured that he will put an end to the culture of "indiscriminate borrowing".

Load more