Okafor Ofiebor/Port Harcourt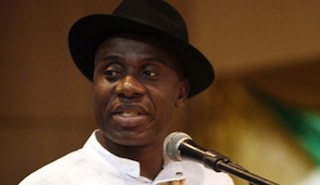 Governor Rotimi Amaechi has assured that his party, All Progressive Congress (APC) will superintend the exit of President Goodluck Jonathan and the Peoples Democratic Party (PDP) at both state and federal level because the PDP led government has turned corruption to an industry.
He declared that one of those angling to become the Governor of Rivers state was mobilized with about N3 Billion naira to construct the road to the new 40,000 capacity Adokiye Amasiemaka stadium built by his administration but disappeared with the money because Economic and Financial Crimes Commission, EFCC, and the Police are controlled by them.
He said President Jonathan's administration has turned corruption to an industry."We will not allow thieves to rule us as governor or as president in 2015. I challenge them to an integrity test. Don't worry their files are with me until the time comes."
He said he was overwhelmed but not surprised by the thousands of supporters that thronged the stadium because he was sure that his decision to test his popularity on seventh anniversary of his victory at the Supreme Court that restored his mandate which was denied him in 2007 was not a fluke that Rivers people love him and that his fight has been to secure their future.
Governor Amaechi challenged President Jonathan to point to one federal project he has cited in Rivers state for about two million votes he got from the state.
"Our Port Harcourt International Airport which he flies has been abandoned. All the Soku oil wells in Kalabari land have been taken to Bayelsa, while 40 oil wells belonging to our people have been taken to Abia state. As governor how can I call a President who has taken away the wealth I swore to protect my brother?"
He said Jonathan's campaigners allege that the President could not execute any project in the state because of his frosty relationship with him. He asked why the President has not worked on the deplorable road between Akwa Ibom and Cross Rivers?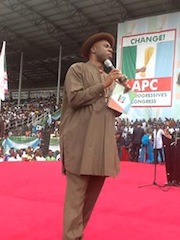 Governor Chibuike Amaechi made good his promise today to prove to President Goodluck Jonathan that his party, All Progressive Congress, APC, is not only founded on billboards but a popular one among Rivers people when over 40,000 filled the stadium as early as 8:00 a.m.
The crowd was so unprecedented that the emotional governor had to fall on his knees to sing praises to Almighty God before delivering his speech of the seven years of his victory at the Supreme Court in 2007.
Dignitaries at the mega rally who gave goodwill messages included, Chief Odigie Oyegun, national chairman of APC; former head of state and an APC presidential aspirant, General Muhammadu Buhari; Atiku Abubakar, former Vice President; Governor Rabiu Kwankwaso, of Kano state, Rochas Okorocha, Governor of Imo state and Nda-Isaiah founder Leadership Group of Newspapers and a presidential aspirants.
Highlights of the occasion was the solidarity speech made by Rt.Hon. Otelemaba Dan-Amachree, the Speaker of Rivers House of Assembly who led 25 members loyal to the governor to pledge their loyalty despite pressures and inducements to betray the governor.

Load more