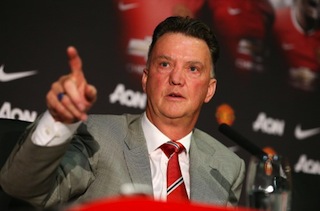 Chelsea boss Jose Mourinho deserves all the credit for his emergence as one of the leading coaches in world football, Manchester United manager Louis van Gaal said as he prepares for the pair's meeting at Old Trafford on Sunday.
Mourinho has previously attributed much of his success to the footballing education he received at Barcelona under van Gaal and his predecessor Bobby Robson.
Portuguese boss Mourinho spent three years at Barcelona with van Gaal between 1997-2000, sharing in two La Liga title successes.
But van Gaal played down his role in the development of the self-proclaimed "Special One" who as a manager has won league titles in Portugal, England, Italy and Spain.
"I think every human being is special and every human being has their own identity," van Gaal said on Friday.
"I have always said that and that has always been part of my philosophy. You have to respect individual human beings," the Dutchman said Friday.
"He's very special for me because I have worked with him and we have continued that relationship. In our football world that's not always normal. It's nice I think," added van Gaal.
"I appreciate that (Mourinho's compliments) but you always do it (succeed) yourself.
"I was an apprentice when I was assistant coach to Leo Beenhakker (at Ajax).It was good that my eyes were opened at that time.
"It's good that Jose Mourinho's eyes were opened when he was my assistant, but you do it by yourself."
Van Gaal, who described Mourinho as a modest and emotional human being, added: "I knew he had talent. I let him do some Catalunya Cup matches for me instead of my other assistants (at Barcelona).
"For him to be such a wonderful coach and win championships in different countries I think is fantastic," former Netherlands boss van Gaal added.
"That he is one of the best coaches in the world is maybe a surprise because you can't foresee that."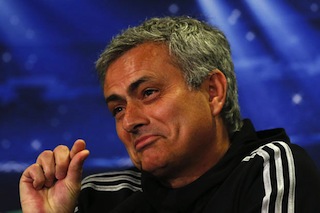 Mourinho has guided Chelsea to an unbeaten start in the Premier League as he looks to add to the two titles he won in his first spell in charge of the London club.
They are currently 10 points ahead of Manchester United, who are sixth in the table, with van Gaal still in the early stages of re-building at Old Trafford.
"Chelsea are one of the top teams, as are (champions) Manchester City," van Gaal said.
"Jose Mourinho has worked for more than one year (season) with his team. Last year he didn't win any prizes.
"You have to build up and he has built up Chelsea. They are playing like a team and I want that with my team, playing like a team for 90 minutes."
Meanwhile, van Gaal said it was no surprise he had invited former Barcelona goalkeeper Victor Valdes to train with United.
The 32-year-old is recovering from knee surgery and will have the final stages of his rehabilitation overseen by United's medical staff before training with the first-team squad and potentially signing a contract to play for the club.
"Manchester United always has their eyes open," added van Gaal. "I have done it with lots of players. I have a relationship with a lot of them.
"I gave Ronald de Boer and Edgar Davids training possibilities in the past. Valdes is one of these players," he explained.
"Robin van Persie also. When he played for me in the Dutch squad, I allowed him to use our medical department to keep fit for the World Cup. I wasn't the manager of United at the time, so I have always done it."
Angel di Maria, who played under Mourinho at Real Madrid, is expected to be fit for United despite suffering a thigh injury in a 2-2 draw at West Bromwich Albion on Monday but Wayne Rooney will miss the match as he serves the last of a three-game ban.

Load more