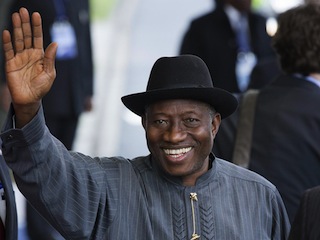 Some youths under the aegis of Northern Youth Forum on Saturday donated N2 million to President Goodluck Jonathan to purchase his presidential nomination form.
The Coordinator of the forum, Engr Bello Bichi, announced the donation at a rally in support of President Jonathan in Kano.
He said the decision to donate the money was borne out of the forum's resolve to support the re-election bid of the president under the platform of the PDP in 2015.
"We decided to support Mr President with this token amount to enable him purchase the nomination form for the presidency.
"The youths in the north believe that President Jonathan has the interest of the country and that of the youth at heart in view of his commitment toward transforming the country," he said.
Bichi reaffirmed the commitment of youths in the north to support President Jonathan's ambition for the second term.
He called on the president not to relent in his effort toward ensuring peace, unity and development in the country.
In his remarks, the Minister of Education, Malam Ibrahim Shekarau, charged youths in the country to avoid acts capable of causing chaos during the forthcoming general (VAC1) election in the country.
"Gone are the days when we should take up dangerous weapons during the election. As youths, you are expected to conduct your affairs peacefully, especially during election in order to ensure peace in our state and the country.
"We have a herculean task ahead of us, so you have to come out en masse and vote so as to ensure the success of the party at all levels in 2015," he said.
He commended the youths for the gesture and assured them that the federal Government would continue to come up with programmes aimed at improving their socio-economic status.
''The president had wanted to come and grace this occasion personally if not for some pressing national matters,'' he said.
Also in his remarks, the Minister of Youth Development, Mr Boni Haruna, said the donation was a clear indication that Northern youths were in support of President Jonathan's bid to re-contest the presidency in 2015.
NAN reports that the occasion was attended by prominent personalities including Minister of Foreign Affairs, Alhaji Aminu Wali and the Special Adviser to the President on Political Affairs, Prof Rufa'i Alkali, among others.

Load more