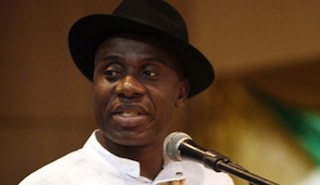 Rivers state governor and Chairman of the Nigeria Governors' Forum, Rt. Hon. Rotimi Amaechi has insinuated that the wife of the president, Patience Jonathan and former Minister of State for Education, Nyesom Wike are corrupt people and their alliance and ambition to rule Rivers state should be vehemently resisted by the people.
Amaechi revealed that he fell out with Patience Jonathan because she wanted him to bring Rivers state funds to her in Abuja while Wike who aspires to be governor on the platform of Peoples Democratic Party has perpetuated fraud to deprive the people of the dividends of democracy.
Amaechi stated this during the joint graduation of students of University of Ibadan and Pioneer graduands of Ignatius Ajuru University of Education held at Rumuolumeni in Port Harcourt.
Amaehi also said that militancy have returned to the state despite having chased them away. "Remember, when I became governor, I fought militancy. Right there where you built a new house, there used to be a hole where they pass into the river as escape route. The security report reached me and I came here and chased the militants away. I asked them to fence the school premises and block that hole.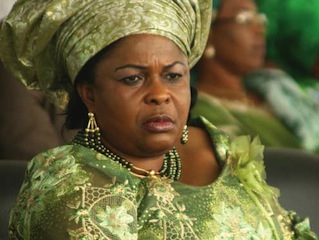 "I have to protect you because, it is my responsibility. Some of the militants went to Lagos, Ivory Coast, Ghana etc. But today they are back because the wife of the President brought them back to protest against me. I refused to give them money in Abuja because, if I do that, I won't be able to carry out any development project or finish the road from Rumuolumeni to Rumuepirikom.
He then explained that he fell out with wife of the President because "she said I should bring your money, Rivers people money and manage it with her which I refused".
Amaechi also labelled Wike as "incompetent", while blaming an indigene of Rumuolumneni for the failure of the Rumuolumeni road construction project.
"I told the people of Rumuolumneni that we have awarded N1.5 billion for their internal roads and have also paid the indigenous contractor who is from the area the sum of N700 million. We said, Rivers money is for Rivers people, because they don't have capital. This man took the contract and gave it to a man who now wants to be governor.
"This man that is been backed by Mrs Jonathan gave N250 million to the indigenous contractor and disappeared with N450 million without constructing the road. And this is the man who wants to be governor, with billboards screaming the concept of 'New Vision'.
Amamechi then pointed out that Wike, former Minister of State for Education in a radio interview said, he "shedded tears". Everyone knows there's no word like that, "shedded".

Load more