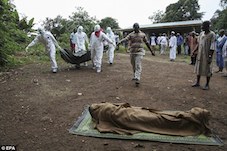 A two-year-old girl died of Ebola in Mali on Friday, in the first case of the disease in the west African nation, a source in the prime minister's office told AFP.
"Unfortunately she died between 4:00 pm and 5:00 pm," said the source, adding that the girl's death had been confirmed by the governor of the western region of Kayes.
The girl had recently returned to Mali from neighbouring Guinea, one of the countries most affected by an epidemic that has killed nearly 4,900 people.

Load more